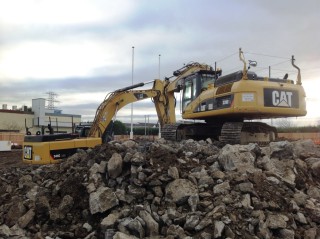 It has been using the system on the construction of a new research and development building for Hewlett Packard.
Maveric Contractors has two Cat 330DL hydraulic excavators and a Cat D6R XW crawler tractor fitted with the Cat AccuGrade control system. They are preparing the groundwork on the 90,000sq ft site.
Managing director Maurice McNamara says: "We pride ourselves in adopting traditional engineering methods and combining them with the latest technology. When we presented the Cat AccuGrade Control System to our client, they were impressed with the delivery of millimetre-accurate results and the increased productivity if offers.
"Whilst using this technology, we have noticed that our operating costs have reduced dramatically. This enables us to get projects completed quicker and more economically, so we're able to take on more work as a result. It also eliminates the health and safety risks of traditional grade control methods, which included typically having someone on the ground, guiding the operator."