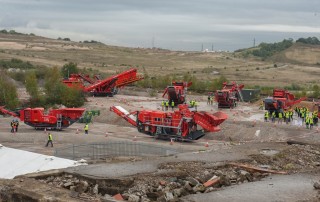 Although Terex Finlay is based in Omagh in Northern Ireland, it held this event at OCL Regenerations in Dartford, coupled with meetings at a London hotel.
Dealers were told how Terex Finlay growth plans centre on an aggressive new product development programme that will see the product range double over the next three years.
The onsite demonstrations featured 20 recent product launches and prototypes of Terex Finlay models due to be released during 2015.
According to sales & marketing director Nigel Irvine, it was "an exceptional and an exciting event".
There were three official new product launches to dealers and end-users: the J-1175 dual power jaw crusher; the C-1540 dual power cone crusher; and the 693+ inclined screen incorporating Spaleck screen box.
The dual powered crushers are electrically driven and fitted with an on-board gen-set for where there is no electric supply. These machines join the 694+ dual powered inclined screener that was launched in 2013.
In applications where a full train is powered by the on-board gen-set configuration the crushers generate sufficient energy to enable the operator to run the 694+ dual power inclined screen for 'free' when used in conjunction with the J-1175 dual power jaw crusher.
This is the J-1175 here: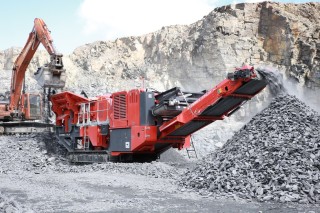 And here is the C-1540: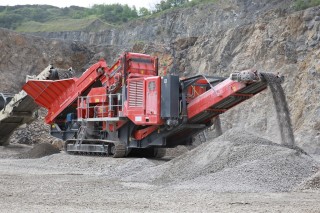 There is a video of the C-1540 in action too:

The third new product launch was the 693+ inclined screen incorporating Spaleck screening technology. This screen has a flip-flow top and bottom deck, which Finlay says "guarantees first class screening of materials".
In addition to these official product launches, several prototype machines were previewed.
The J-1170AS jaw crusher is designed to provide the flexibility of a crushing and screening plant on one machine. A detachable on-board sizing screen gives operators the capability of producing two spec sized products. The machine was demonstrated working in a concrete recycling application and will be launched in the first quarter of 2015.
The V-2050 vertical shaft impact crusher has been engineered for operators who require a high specification product and large production tonnages. The machine incorporates the Canica V-2050 chamber with 'Dual Flow' configuration that will give operators high tonnage throughput with low production costs, the manufacturer promises.
The C-1554 cone crusher is for operators who require a highly aggressive cone with a high reduction ratio. It incorporates the MVP450X screw cone chamber, which produces a higher percentage of sized products in a single pass, generating less fines material and therefore a more valuable product with increased profitability.
The C-1545 cone crusher is for operators wanting a medium-sized cone crusher with large throughput capacity while also having the flexibility of direct feeding or the ability to remove or bypass fines from the chamber via on-board pre-screen module.
The 873 heavy duty screen is designed to work as a primary screen in quarry, demolition, C&D Recycling, landfill material, topsoil, sand and gravel, coal, slag, ore processing and aggregates. This new model, when launched, will offer small and medium sized operators "an aggressive, flexible and class leading machine with a wide range of available screening media configurations", says Terex Finlay.