At number 5. We have the operator of this JCB 520 Teletruck who didn't really want to have those sheets of plasterboard sat on the cab roof.
At number 4. This Liebherr "Rubber Duck" operator must have got a bit of a shock whilst moving this trench box. I can't really figure out how he ended up in that position. There seems very little damage to the surrounding ground surface?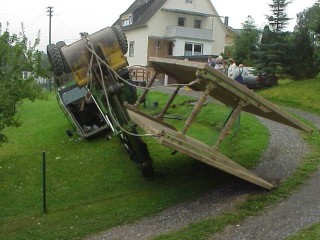 At number 3. This massive Caterpillar 797 rigid dump truck appears to have broken its front axle whilst travelling fully loaded.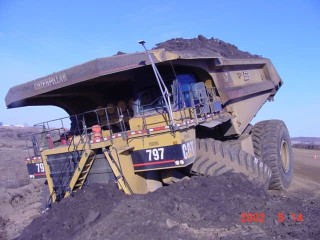 At number 2. This JCB telescopic handler operator somewhere in America, has had a lucky escape whilst attempting to lift roof trusses onto the building, from what appears to be very uneven ground, fortunately the machine has been saved from going over completely by the surrounding trees.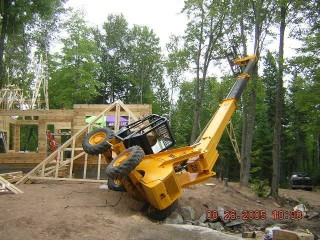 And at number 1. The operator of this Komatsu PC350 has attempted to lift a large rock that is nearly as big as the machine! Time to put the rock breaker on I would of thought.