However a rubber-tracked boom lift was able to do a necessary job of work while managing to satisfy the cathedral authorities.
The cathedral needed an up-close survey of its stonework and stained glass in preparation for some restoration and conservation work. Work is planned on the nave roof and west towers, on the stonemasonry to the upper nave buttresses, and on the nave's stained glass windows.
Using an Ommelift 4200 RBDJ crawler-mounted boom lift, the cathedral's expert team accessed the seldom-seen high level interior vaulting of the nave, which is 25 metres high.
Inside, the non-marking tracks spread the weight of the 6,805kg machine to eliminate risk of damage to the floor. The tracks also helped the machine traverse slopes indoors and out.

They then used the same machine outside to inspect the stonework on the west towers, 42 metres above ground.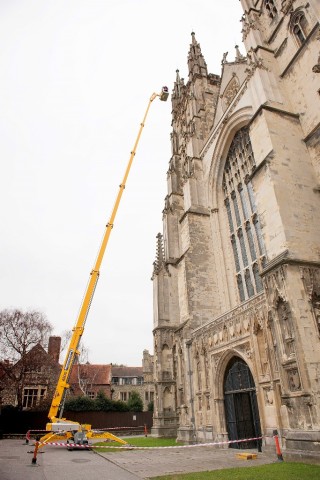 Heather Newton, the head of Stone Conservation at Canterbury Cathedral, said: "This particular MEWP [mobile elevating work platform] was invaluable in facilitating a survey of the nave vault and the exterior fabric of the western towers. It enabled Jo Deeming, the cathedral's Surveyor to the Fabric, and others to assess the condition of the stonework and more accurately scope the work for the 'Canterbury Journey' projects."
The Ommelift was hired from Paramount Platforms, whose Lee Kerr said: "The cathedral required a very versatile machine that could pass through quite a narrow doorway, work inside and outdoors; had low ground pressure and yet could reach heights of more than 40 metres. Using the Ommelift 4200 meant the entire inspection was completed within three days."