During June, bridges, roads, homes and forest trails in many urban areas were affected by the heavy rain that led to flooding throughout the entire Aran Valley (Lleida), in the North of Spain and the overflowing of the Garona river on its way through the town of Vielha.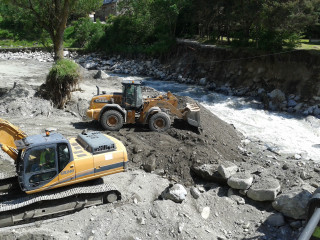 The emergency situation was dealt with quickly and the water had barely begun to receed when the first Case equipment turned up onsite, in an attempt to help the thousands of affected inhabitants return to normal.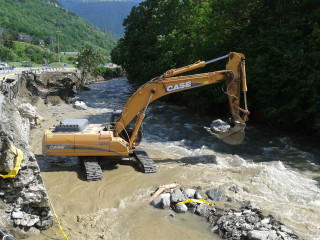 Case equipment could be seen over the whole area, particularly heavy line equipment, but also some mini equipment. The 621E, 621D, 821F, 821C, 821E large loading shovels, the CX240B, CX290B, CX300C, CX350C and CX370C excavators and the CX31 compact were fully operational in the area, together with the 430 mini-loader and the WX185 and WX210 wheeled excavators.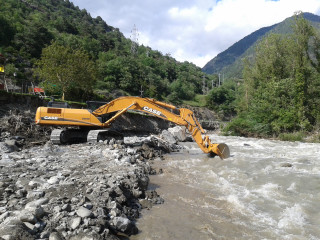 Earlier in June, Case has also been supporting efforts in the floods seen in south east of Germany. The Case dealership in Erlangen, sent an excavator and loader as swiftly as possible to the Bavarian town of Deggendorf, one of the areas worst affected by the floods.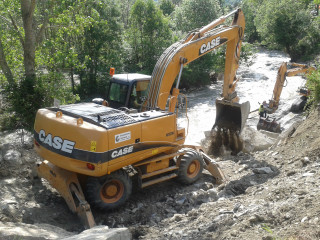 Case donated €5000 to one of the affected families in this town. The manager of the dealership, Peter Straßer, passed over a cheque to a representative of the Red Cross in Bavaria.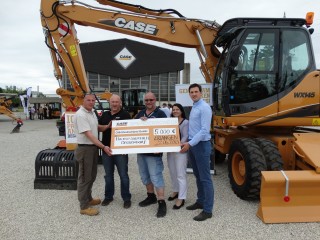 From left to right: Markus Meyer (CNH Business Director D-A-CH), Peter Straßer (Store Manager Case Erlangen), Norbert Hartmann (Representative of Bavarian Red Cross in Erlangen), Marei Winter (Marketing & Communciations Manager D-A-CH), Steffen Thierfelder (Store Director D-A-CH)