This 13 ton class machine, which is powered by a Deutz 4 cylinder turbo charged engine, has a bit of history attached to it.
It was originally owned by well known plant hire and groundwork contractor, Ken Wilson from Sittingbourne in Kent. The company was known as KNW and worked on a nationwide basis carrying out groundwork and demolition, including concrete crushing and recycling, it was in the concrete crushing sector that this machine spent most of its working life, apparently with one operator on it throughout.
Ken was a keen collector of vintage vehicles and tractors and when he retired to Devon, decided to put his collection on show to the public. In Easter 2007 he opened the Bradworthy transport museum, which was to hold around 90 exhibits at its peak.
Sadly, due to family commitments back home in the East of England, Ken and his family have had to move back.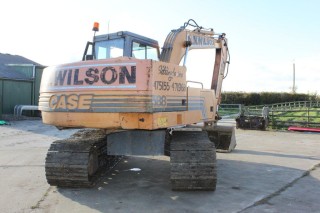 Before the move could take place all the items were put up for sale, by all accounts he made some good money on the rare exhibits, but it must have been a wrench to part with these items which Ken had amassed over a 40 year period.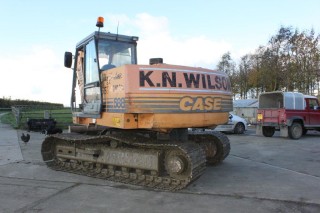 The Case/Poclain found its way to a local dealer, which is where Ray found it and eventually bought the machine. Ray now intends to restore this classic excavator to its former glory. "First job will be to take a link out of the tracks as there is no more adjustment left" said Ray "then I would like to replace the windows and lights that have been damaged while the machine was working on crushing duties, and finish it off with a new coat of paint"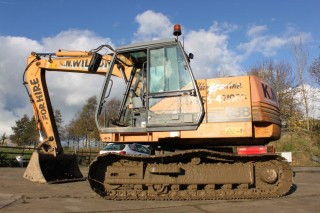 I took to the controls for a brief spell on the machine and everything was still tight for its age except the bucket, but nothing that a few bushes wouldn't cure, so I am confident Ray has himself a machine that should serve him well for many years to come in the course of his agricultural duties.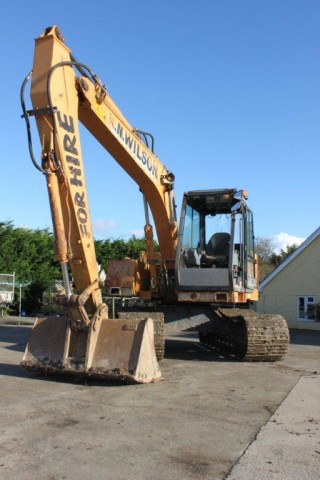 We look forward to bringing you an update on Ray's restoration of this excavator in a future post here on the Digger blog.