The Cat E Series D7 was first introduced in 1961 to replace the outgoing 140hp D7D model. The D7E was powered by a Cat D339 turbocharged engine, which was rated at 160hp, by 1965 engine output had been increased once more to 180hp.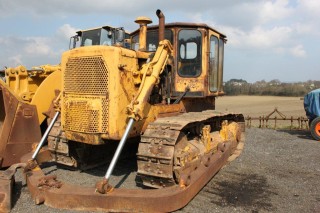 The D7E was eventually replaced towards the end of 1969 by the D7F model, which was then fitted with the D333 engine, although power output remained the same at 180hp.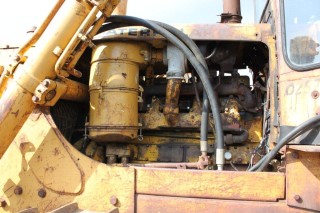 This particular 1963 model was recently taken in as part of a machinery deal with SPK Ltd. It has been used on a regular basis and had a fair amount of money spent on it.
The machine features direct start, power shift transmission, Caterpillar double drum winch and a 14' blade which has recently had new cutting edges fitted.
Steve Powesland, owner of SPK Equipment Sales Ltd, said "there has been a fair amount of interest shown in this machine already especially from customers in Africa"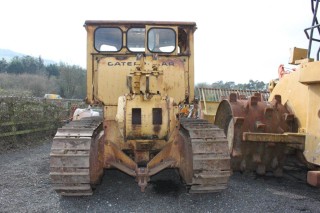 I always enjoy looking around these older pieces of kit and a look inside the cab certainly makes me appreciate how things have changed these days; not much in the way of ergonomics for the operator when these machines were designed!
I would definitely need some blocks of wood fixed to the pedals so I could reach them with my little legs as there appears to be no adjustment to the seating position in these old tractors.
Most of the cabs which were fitted to these old machines were made by independent cab manufacturers of which there were many including Westlode and Cab Craft.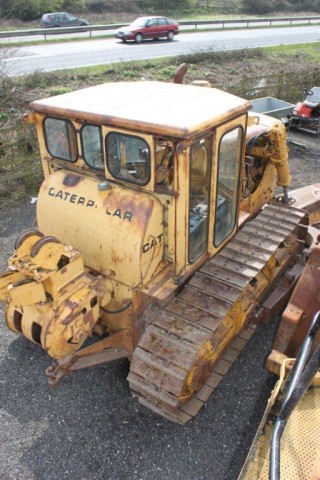 It's quite interesting to see all the different designs that were fitted over the years and if you search on the internet for dozers and tracked loaders you can find many examples. I must say the cab fitted to this D7E is not one I have seen before. I would be very keen to hear from anyone who used to work for these cab design company's back in the day.

The D7 was always a popular choice for military applications, with many special versions being manufactured, including armoured machines which saw action in World War 2 and many other theatres after, including the Vietnam conflict.
Regular Digger Blog reader and contributor Timo Akerlund was on holiday in Vietnam recently and came across this fine example of a Caterpillar D7E at the HCMC war remnants museum.
According to the information at the museum, these machines were used in large scale ground clearance projects, razing forests, orchards, rice fields, cemeteries and transforming large areas into "no man's land". By the end of July 1969, the US Army had around 1417 bulldozers deployed in Vietnam.
Old machine's like this are a credit to the Caterpillar products durability and the fact that so many of them and older models are still putting in a good days work around the world are testament to that.
Let's hope someone in the UK snaps this machine up so it doesn't end up going abroad, if I find out where it goes I will let you all know here on the Digger Blog.