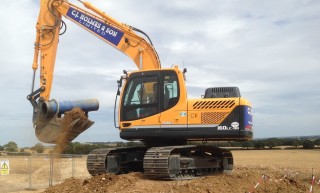 Chris Holmes started out as a 'one man one machine' operation working mainly on caravan sites and grew from there.
With more companies approaching him for machines lately, Chris decided there must be a gap in the market for gap in the market in the Lincolnshire area. CJ Holmes Plant & Tool Hire opened for business in January 2016 with 12 machines in its fleet.
Ten of the 12 machines are Hyundai brand, with operating weights ranging from 1.7 tonnes – the zero tail swing R17Z-9A – up to 22 tonnes.
"One of the main reasons we chose Hyundai machines is for their reliability – they are very low maintenance machines and down-time is minimal," Chris Holmes says. "The machines also represent excellent value for money."
The fleet includes two R60CR-9A six-tonners, two 14-tonne R140LC-9As (below) and two of the 16-tonne R160LC-9A (above).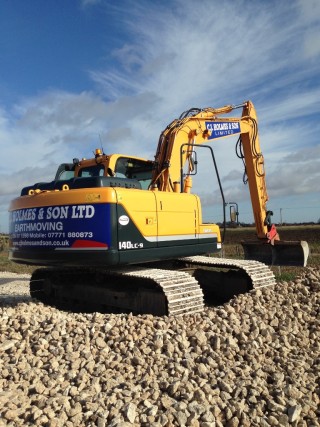 "Our latest purchases have been another R220LC-9A 22-tonne machine," he says, "and a 2.5-tonne R25Z-9A – another zero tailswing machine."
Operations manager Keith Ranson is responsible for the day-to-day running of the business and looking after fleet. He says: "We find Hyundai machines fit the bill job wise – for example a company might ask to hire in a 3-tonne machine and are unsure when we offer them the 2.5-tonne Hyundai. But when the operator on the job-site gets on the machine – it does the job just as efficiently as a 3-tonne machine. With the hire side of the business taking off so quickly, and being crazy-busy, we have to make sure the machines we have out on hire are up to the job – and we have every confidence in our Hyundai fleet and the back-up service we get from [dealer] EP Industries. We have four operators, including our managing director Chris, who is still very much on the tools, and they all rate the machines very highly."
He adds: "We ran a small fleet of a competitor brand in the beginning but we like the Hyundais and we plan to run a 100% Hyundai fleet."