This early model Daewoo DH130, which was produced back in the days when the company manufactured machines sporting light yellow paintwork, was run by Torquay based Alex Sim Plant Hire. The machine was working on another road job in the South West, back in the day when the popular tourist routes down into Cornwall were being carved out.
Sadly this machine was soon to become a victim of a reversing articulated dumptruck incident, details are sketchy, but I believe that the operator was sat inside the cab when the butt of the ADT hit the cab from the door side.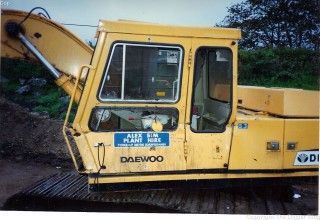 As you can clearly see from this dramatic photo it could have been a lot worse! And I am confident the operator probably required a change of underpants after this rather frightening accident.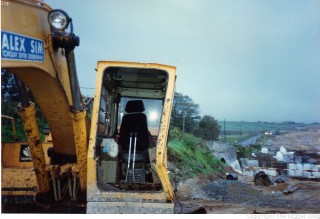 As far as I am aware the driver got out safe and sound, but a new cab was surely required for the Korean built machine.