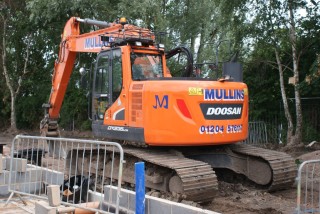 The DX235LCR-5 is Doosan's new 24-tonne reduced-radius crawler excavator. It was supplied by local distributor Norwest Plant.
Doosan says that this model gives "superior digging performance together with flexibility, convenience and low operating costs in a compact design". But more significant than all this is the near-zero tailswing. It has been designed specifically to meet demand for reduced radius machines for working near buildings and in confined areas, which by all accounts is a growing market as developers look to build on ever more confined sites alongside roads and railway lines. The DX235LCR-5 has a minimum swing radius of 2310 mm.
JJ Mullins is a family business offering a range of civil engineering and groundwork services. "We run a fleet of Doosan machines from 3- to 30-tonne," says managing director Paul Mullins. "The DX235LCR-5 offers the latest technology and we purchased the new machine based on the increased confidence and optimism we are seeing in the construction market in the north."
He adds: "With its weight, power and digging depth, we see the DX235LCR-5 as a multi-utility machine and its reduced radius design is very well suited to our projects especially those for housing associations and private developers, where we are often working on confined space sites."
Norwest Plant general manager Jonathan Campbell reckons its the spec that makes the new machine stand out. "One of the many attractive features of the latest range of machines from Doosan is the wide selection of innovative features they have as standard, which are only available as options on other machines on the market," he says.
The DX235LCR-5 is powered by the Stage IV compliant six-cylinder, turbocharged Doosan DL06P water-cooled diesel engine, which the manufacturer says gives a 9% increase in engine power of 180 kW (242 HP) at 1900 rpm and 8% more fuel efficiency compared to the previous Stage IIIB model. Like all Doosan LC-5 machines, the DX235LCR-5 meets the Stage IV emission regulations through the use of cooled exhaust gas recirculation (EGR) and selective catalyst reduction (SCR) after-treatment technologies, with no need for a diesel particulate filter (DPF).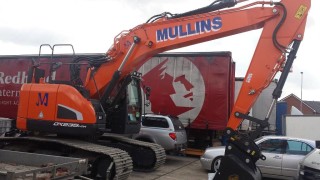 Claimed performance improvements over the previous model include a 5% increase in torque, around 13% more bucket force in both standard and boost modes, a 3% increase in arm force in both standard and boost modes and lifting capacities increased by 9% over the front and nearly 16% over the side.
The DX235LCR-5 has a bucket breakout force of 16.0 tonne (ISO) and an arm breakout force of 11.1 tonne (ISO). Maximum digging reach is 9.82 m at ground level in the standard configuration and the maximum digging depth is 6.67 m.