My first port of call this year was to visit the team at M&M Plant Sales Ltd, who are the South West dealers for Case, Wacker Neuson, Rammer, Manitou and most recently the American Gehl skid steer loader range. One of these machines, a 4640 E model, was attracting quite a lot of attention on the stand.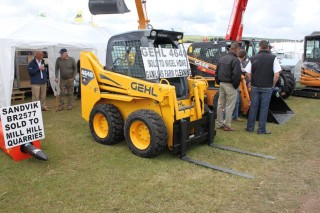 The Gehl 4640 E is powered by a 62hp Deutz turbo diesel engine, and has a rated operating capacity of 1,650lbs. The machine carries bucket widths from 61.5" to 70". This particular model, which has also been supplied with a pallet forks attachment, has been sold to Nigel Howe, who trades as Gamlins Farm Cleaning. Nigel uses skid steer loaders in a variety of farm cleaning applications, which I hope to report on shortly.
Dominating the M&M stand once more were two examples of the incredibly popular Case CX130B hydraulic excavators, proudly sporting the colours of two of the South West's biggest players in the civil engineering & groundwork's field, Fred Champion and Steve Hoskin Construction.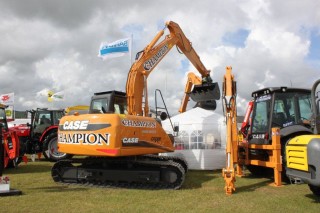 Another machine purchased by Steve Hoskin Construction was this Case 590ST backhoe loader.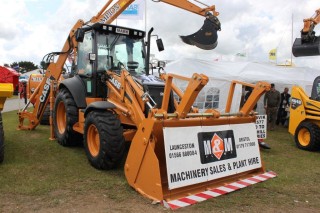 A Wacker Neuson 3001 three ton forward tipping dumper was also on display.
M&M sales manager Luke Harris also told me about a deal he did recently to supply a Wacker Neuson mini excavator to a customer. Luke was keen to heap praise on the well engineered machines, and I hope to bring you a report on the machine in a future post.
Next stop was a visit to the ever friendly crew at the Plant & Engineering Services Ltd stand, where examples of the company's range of equipment were very well presented. A warm welcome always awaits you when you pop by to see Jim, Mike, Geoff and the rest of the team and the "crack" is always brilliant!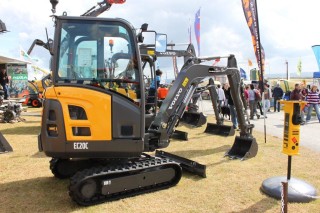 Plant & Engineering Services Ltd is the local dealership for the Volvo Compact range, Ausa dumpers and forklifts, Cormidi tracked carriers, Muck Truck mini dumpers, and Atlas Copco air and hydraulic hammers.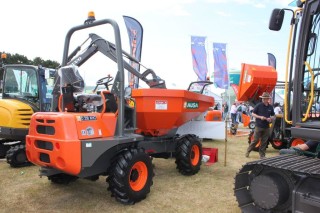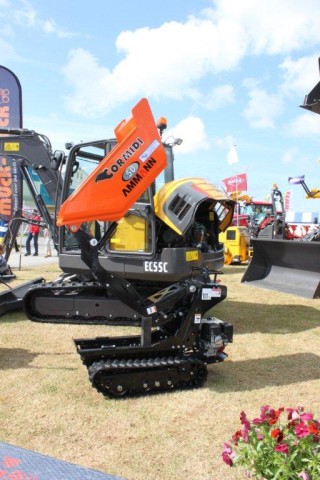 Larger products from Volvo's portfolio were also on display with South West area salesman Richard Shelbourne showing three of his products including a BL71B backhoe loader and this latest F series, Volvo L45F wheeled loader.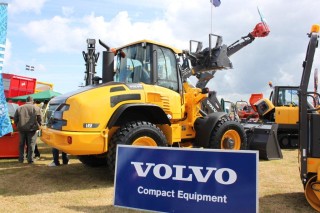 Also on the stand was this fine example of a Volvo EC160C LC hydraulic excavator, fitted with a re-handling grab, which has been sold to South Coast business, Commercial Recycling Ltd.
Also sharing some stand space with PES was Devon based company Nudgeblade, who were giving their innovative new product its first official public viewing. The simple but effective idea of fitting a small dozer blade to the front of a conventional dumper is gaining a lot of interest from end users and potential customers alike.
I personally think this is yet another simple but brilliant idea and I will be covering this product in more depth in an upcoming post.
Of course the Royal Cornwall Show is a massive family day out and it really was a delight to see so many youngsters getting excited around the diggers, dumpers and other items of machinery. I can remember being like that myself and some may say I have never grown out of it!
Here is a cracking shot that sums up all that young enthusiasm for diggers, with our friends 2.5 year old son Harley having some "stick time" with the controls of the Volvo EC160C LC.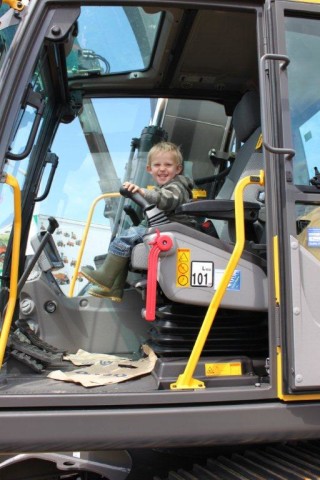 Look out for more coverage from this event in Part Two.