I deal with Holt JCB quite a lot at the moment, as the South West company I sub-contract to, are big JCB customers. I stopped by their stand at the RCS to see what was on display. It was pretty busy, so sadly never got to speak to anyone on this occasion.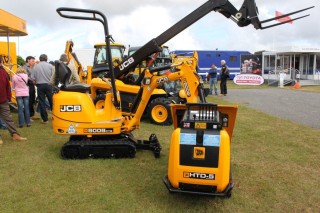 The stand was well stocked with various items of kit from the JCB range and as is traditional at these events, many were sign written with new owners logos on them. One of the first machines that caught my eye was this JCB 714 ADT which has been purchased by a firm who are fairly local to where I live called GM Contractors plant hire & groundworks, the business is owned and run by Glynn & Gary Martyn.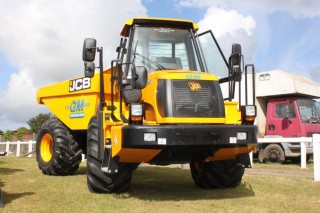 Two examples of JCB's latest Eco 3CX were also on display, including this one which is fitted with a tarmac planer and has been sold to Steve Hunt Plant Hire.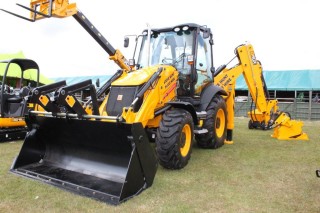 On the micro plant side of things two items were on display, including a 8008CTS micro excavator and a HTD-5 "Dumpster" mini tracked dumper.
The 8008 is powered by a class-leading 9.2 kw engine. Access through small doorways and gates is made easy with the fitment of a retracting/extending undercarriage which when retracted measures just 700mm, once in to the jobsite it can be extended to 865mm to provide excellent stability in the dig. The tubular boom design provides excellent protection for the hydraulic hoses and aids in keeping the weight down.
The 8008's perfect partner is the HTD-5 "Dumpster". It has a maximum width of just 690mm which means it can easily follow the micro excavator through tight gateways and doors. These little, yet powerful, dumpers can carry up to 500kg and with a tipping height of 1450mm can empty the load straight into a conventional skip. The machine in the photos is part of an order from Cornish based Acland Plant Hire, which also included this JCB 8030ZTS 3 ton mini excavator.
Over at the Kelland Plant Sales stand, the latest Terex TB840 backhoe loader was being demonstrated on a regular basis. The machine features an all new backhoe design, which incorporates the sweeping curve excavator style boom, and a sliding outer casing for the extending dipper, which seems to be favoured by many of the manufacturers today.

Also included on the dipper is a serrated gripper at the bottom of the dipper for trapping tree stumps and lumps of concrete if necessary and a bracket is welded to the top of the dipper which allows for the fitment of an American style "thumb" attachment if required.
Also on display was this Doosan DX225LC 25ton hydraulic excavator which is seen for display purposes fitted with a hydraulic hammer. This was yet another machine at the show which had been sold to Fred Champion Groundworks from Liskeard in Cornwall.
The Bobcat range, which is of course now owned by Doosan, was also well represented on the stand. This E60 midi excavator had been sold to another big player in the West Country W.H.Bond Ltd. Not had much to do with the Bobcat range of excavators over the years but they do seem to have some loyal support.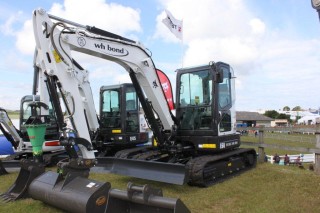 Finally in this part a TerexTC125 hydraulic excavator.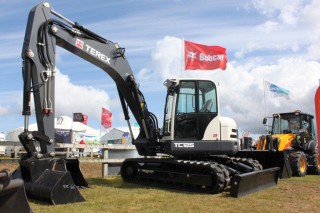 This machine weighs in at around 12.5 ton and is powered by a 74.9kw (102hp) Deutz 4 cylinder turbocharged diesel engine. Based on the Schaeff German designed machines, it certainly looked a well built and useful piece of kit with its offset arm, dozer blade and compact radius, according to the spec sheet the machine has a maximum dig depth of 4.33m and a maximum reach at ground level of 7.94m.
The Digger Blog has very little contact with Terex at present but I would be very interested in more involvement with the company's products.
Look out for the third and final report about my show visit shortly.