Phil Davey and the team from Crediton based Machineserve, had examples on display from their dealership range including Hanix mini excavators, Dieci telescopic handlers, Arrowhead breakers and Multiquip small plant.
Also on the stand was a Tilrotator model from Swedish company Steelwrist, whom as reported recently on the blog are working very closely with Hanix.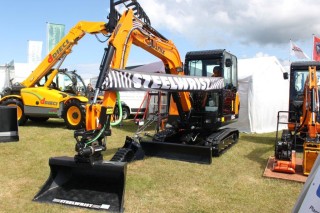 The Steelwrist XO4 model was being shown on the stand fitted to a Hanix H36C. The H36C weighs in at 3490kg and is powered by a Mitsubishi S3L2 engine which has a power output of 19.9kw.
There was much talk about the tiltrotator systems on the stands around the showground, but I found it was greeted with the usual negative British attitude; however, forward thinking machinery men in the UK are gradually warming to the idea and indeed seeing the benefits that these systems can give the end user, but it will be sometime before we catch up with the Scandinavian country's, where if you don't tiltrotate, you simply don't get the work!
Another model from Hanix which was on show was the latest H17D model which competes in the 1.5 ton sector and was reviewed here on the blog in my report from the Hanix facility in Manchester a couple of months ago.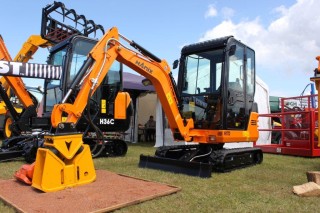 The H17D was shown fitted with a 8x20 inch Arrowhead ACP 200 hydraulic compactor plate. These American designed and manufactured plate compactors employ a unique V profile design delivering superior vibration suppression by the use of oversized in line dampening mounts.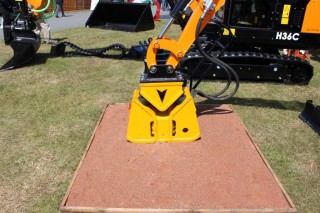 Our next stop was at the CBL Plant Sales stand, where one of the most striking line ups, was a fleet of six Bomag BW120AD-4 double vibratory drum rollers, which have been painted in the corporate colours of Liskeard based Steve Hoskin Construction Ltd.
I am also told there are plans for a much larger machine to be given the SHC treatment shortly, can't say too much at the moment, but as soon as I know more I will be reporting on it here on the Digger Blog!
Also present on the stand was a 9 tonne Thwaites dumper which was decked out in Fred Champion Groundworks livery.
And finally two items from the Takeuchi mini excavator range were on display including this TB138FR model.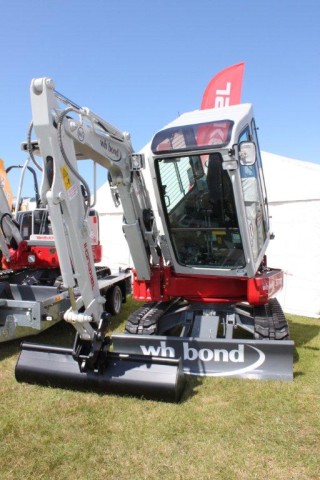 According to CBL salesman Rod Luckman, the Takeuchi range has been fantastic for the company and he was quick to say "The machines simply sell themselves, they are that good". Well I must say as a big fan of the red and grey machines, I would not argue with that comment.