2013 is going to big a big year on the construction plant and machinery show circuit. We have already had the 53rd Doe Show in Maldon, Essex and the Executive Hire Show in Coventry, both of which took place last week, with early feedback reporting renewed confidence from both visitors and exhibitors alike, and a high level of optimism for the future, which was backed up by the number of deals being done at these events. With the massive Bauma trade fair coming up in April, it will then be time to look forward to the first Plantworx show in Stoneleigh, Warwickshire, which most plant industry people feel will return us to the good old days of SED before the disastrous move to Rockingham and its eventual demise. Many of us have fond memories of the show when it was at Fen Farm in Milton Keynes, including Neil Grainger who recalls some of his visits back in the day when SED was the UK's top show. Neil kicks off with this shot of a Fiat-Hitachi, which had been adapted by Ipswich based long reach specialists Kocurek, and was badged as a KH380.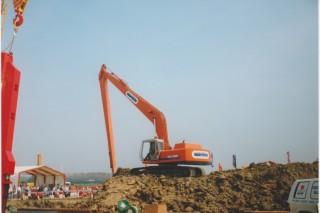 Here's a great shot of the last of the true red and grey Poclains in action at the show, in the form of a Poclain 61P wheeled excavator (rubber duck). The machine is shown loading an unusual dumptruck, the identity of which eludes me right now, but I am wondering if it might have been an early Astra based truck fitted with an ejector body? If any readers know the true identity of the machine I would be keen to read your comments on the post.
No matter which show you are attending, you are always guaranteed and great performance from Caterpillar, with a varied line up of kit to be demonstrated. SED was no exception, as this shot featuring a nice Cat D5C XL in the holding pen shows.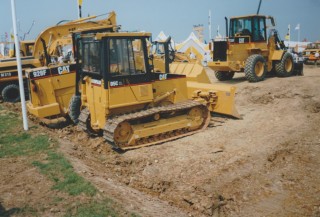 The great thing about SED was always the fact that visitors could get "hands on" with the kit on the digging plots. This is something that has been taken very seriously in the forward planning of Plantworx, where potential customers, including operators and owners, will be given the chance to try before they buy in a close to real life digging situation on the showground. It was always a focal point in the earlier days of SED, as we see in this shot as Neil Grainger himself departs from a H. E. Services branded Komatsu PC120-5 which he had just put through its paces on the Marubeni Komatsu plot. I loved the Komatsu PC120-5 myself, having operated a number of them for Fareham based H. T. Hughes back in the day.
The demonstration operator on this Daewoo DH130-2 is putting the machine through an extreme manoeuvre in a blatant display of showing off! Of course this kind of practice, while not acceptable on site, is almost expected at shows where the operators are keen to put on a stunning show that will draw the crowds to their particular stand. Its showmanship of the highest order, and I for one look forward to just what the demonstration operators have in store for us at Plantworx. I am also judging the best demonstration operator at the show too, so come on guys and girls put a show on just for me!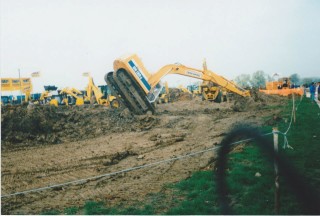 This Danish built Hydrema backhoe loader was an interesting concept, which I believe was capable of 280 degree slew. I'm not sure how many were built, or if they were sold in any volume at the time, but it's often unusual machines like this that catch the eye at the shows.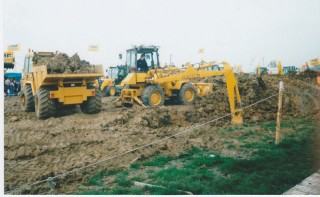 Here is a great shot of what appears to be a 30 ton class Series 2 Samsung excavator getting to grips with the heavy clay ground at Fen Farm. I suspect this was from the era when Samsung machines were sold by a company called Sampower. Samsung of course went on to be acquired by Volvo in 1998.
No UK show would be complete without the presence of JCB, without doubt one of the biggest success stories of British industry and one we should all be very proud of. This shot shows an early example of a JS300LC from the alliance of JCB and Sumitomo, with a JCB 3CX on the heap in the background.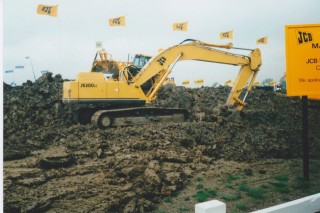 Here's a name we don't see much at UK shows anymore, Hitachi, which is a real shame as the popular orange machines have a massive following here. I can recall the time when our main UK dealer HM Plant, always had a stand at SED, as seen in this shot featuring this Hitachi EX600 and a Fiat-Hitachi FD145 dozer in the background, at work on the demo plot.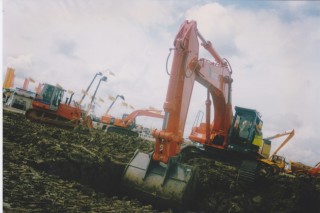 And once more on the HM Plant – Fiat Hitachi stand, this FL175 crawler loader was attracting the attention of a keen punter climbing aboard for a closer look inside the cab.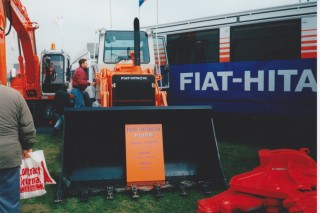 Of course no look back at SED would be complete without a look at our good friend Doug Potter up to his antics on the Hyundai digging plot. In this shot it appears that Doug is about to make his ascent to the summit of his man made mountain, in a Robex 130-3. Once on top of the heap he would have no doubt treated the assembled crowd to one of his famous "Eddie the Eagle" dismounts sliding down the gloopy clay heap at Fen Farm. All though retired from the role these days, rumour has it Doug might put in a sneaky performance at Plantworx this year during the middle day ...but I didn't tell you that!
Plantworx is already 85% sold out, with all digging plots taken. There are currently 210 exhibitors covering a whole host of construction plant related products. Most plant people I know love a good show, so it won't be long to wait now. I will see you there, now let's all pray for some decent weather!
The Digger Blog thanks Always Digging's Neil Grainger for sharing these nostalgic photos with us.