You don't need me to tell you that Bauma is the world's largest construction trade fair. It is huge. And it is where just about all the best and most important new machinery makes its debut, either in prototype form or market launch.
Last time, in 2016 (pictured above), there were 3,425 exhibitors from 58 countries occupying 605,000 m² of exhibition space, drawing 583,736 visitors from 219 countries. More than half a million visitors!
The next Bauma takes place 8-14 April 2019. Major themes are set to be reduced (and occasionally eliminated) emissions and machine control technology. Here, in no particular order, are some of the highlights to look out for.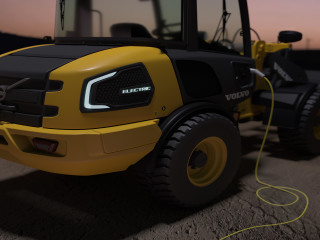 Bauma 2019 will be the first major industry event following the recent announcement that Volvo Construction Equipment is to go electric on its Volvo-branded compact excavators and compact wheeled loaders in 2020. Volvo CE thus becomes the first construction equipment manufacturer to commit to an electric future for its compact machine range. The first two hydraulic-electric machines will be unveiled at Bauma, followed by a staged market-by-market introduction and ramp up in 2020.
New excavators that will be launched at the show include the 20-tonne EC200E, alongside the EC15-EC20E compact excavators. There will also be the EC750E high-reach demolition excavator, the EC300E hydraulic-hybrid excavator and an EC220E that features Volvo Active Control automated boom and bucket movements.
Expect to see Dolph Lundgren in the Volvo booth too, at least on screen if not actually in the flesh. [If that reference leaves you flummoxed, see previous Digger Blog post here.]
Kobelco
Following the recent introduction of several heavy demolition machines in Europe, Kobelco Construction Machinery Europe (KCME) is launching its largest excavator yet. The Kobelco SK850LC-10E is the latest addition to the Japanese manufacturer's Generation 10 range and will make its European debut at Bauma. The Hino engine delivers 2,120Nm of torque and 380kW of power.
The SK850LC-10E also features Kobelco's latest cooling system – a hydraulically-driven twin fan engine cooling system. This hydraulic version also prevents over-cooling by use of integrated sensors to reduce the speed of the twin-fan unit, helping to increase efficiency and reliability, Kobelco says.
Kobelco will also have a pair of new midi-excavators at Bauma – the SK75SR-7 (pictured above) and the SK85MSR-7. Aside from the usual performance improvement claims that accompany every new machine launch, Kobelco has increased the distance between the upper structure and undercarriage on these by 20mm to reduce damage by rocks, and the machines' blade geometry has been improved to make it easier to operate in hilly areas.
The SK75SR-7 is available with fixed monoboom and offset boom configurations. The SK85MSR-7 is available with swing monoboom and can also be fitted with a two-piece boom. Kobelco says: "This special two-piece configuration enables operators to work across a wide operating range while still providing smooth hydraulic operation, high performance and increased fuel efficiency, and gives more digging space within the same area."
Doosan
Doosan Construction Equipment promises to show a wide range of new products for the first time, including Stage V compliant DX27z, DX35z, DX62R-3, DX63-3 and DX85R-3 mini-excavators, the DX250WMH-5 (25-tonne) material handler, the 30-tonne DX300LC-7 30 excavator (pictured above), the 80-tonne DX800LC-5B excavator (below) and new 30- and 40-tonne class Stage V compliant articulated dump trucks (ADTs). Doosan will also be showing its DL280-5, DL420CVT-5 and DL580-5 wheeled loaders for the first time at Bauma.
The new Stage V compliant 2.7-tonne DX27z and 3.5-tonne DX35z are zero tail swing (ZTS) models with 360-degree stability. These will be shown alongside new Stage V versions of the established six-tonne DX62R-3 and DX63-3 and the eight-tonne DX85R-3 mini-excavators.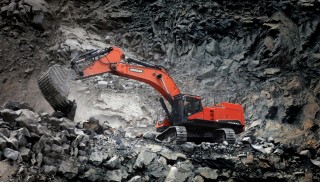 Liebherr's stand will be as huge as always, taking up 14,000 m2 and displaying more than 60 different machines. Pictured above is what it looked like in 2016. Expect the same again. Or maybe even more.
Liebherr is launching seven models in its Generation 8 crawler excavator series, ranging from 22 to 45 tonnes operating weight and with Stage V engine power range from 120kW (163hp) to 220kW (299hp). The 35-tonne R394 is shown below. It is based on the (38-tonne) R938 platform.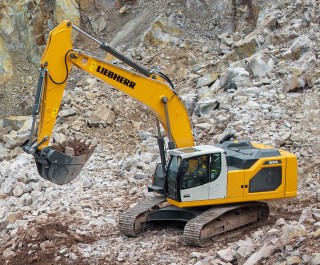 Liebherr says that its Stage V engines deliver almost 10% more power than the previous versions, as well as more traction force and more swing torque. There is no exhaust gas recirculation (EGR) valve but they have a diesel oxidation catalyst (DOC), a selective catalytic reduction (SCR) system and a particulate filter for reduced consumption and higher productivity.
Liebherr also plans to show a prototype of its A 913 Compact Litronic wheeled excavator (below), described as "an all-rounder for classic earthmoving work on construction sites where space is tight".
It might remind you of the JCB Hydradig, with the engine mounted on the rotating upper works and various steering modes, but with an operating weight of between 13,800 and 15,500 kg it is somewhat heavier than the JCB and has more tailswing.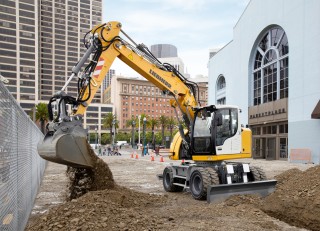 The new XPower large wheeled loader will feature a host of smart assistance systems, including rear bystander detection and a built-in sensor-powered tyre-monitoring system.
Liebherr will also unveil INTUSI, its INTeractive USer Interface. It is an operating concept that Liebherr hopes will "revolutionise communication between and with construction machines". INTUSI connects Liebherr construction machinery and material handlers to the so-called Internet of Things (IoT), combining an intelligent operating logic with machine intelligence. The new concept will be used in all Liebherr earthmoving machines and material handlers from now on.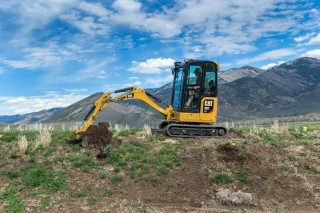 Caterpillar promises to display 64 machines, 20 of them new introductions – which is the most new products Caterpillar has ever introduced at Munich. The Caterpillar display will occupy more than 9,000 m2 in hall B6.
New Cat machines include five mini excavators – the 301.5, 301.6, 301.7 CR, 301.8 and 302 CR – and three midis in the 7-10 tonne range - 308 CR VAB, 309 CR and 310. That's the 302 CR, pictured above.
Then there is the D6 XE, the world's first high-drive electric drive dozer (below).
On display as a concept machine will be the all-electric 906 wheeled loader, powered by a lithium-ion battery.
Other wheeled loaders on display will be the 950 GC, 950M, 962M waste handler, 986K, and 992K, plus several XE models—966M XE, 972M XE, and 988K XE.
The 966M XE and 972M XE have the Caterpillar parallel path drive system that combines hydrostatic drive with a parallel mechanical-gear path to provide a continuously variable transmission. The XE technology on the 966M XE and 972M XE offers up to 35 percent more fuel efficiency, compared with wheel loaders with conventional powershift transmission, Caterpillar claims.
The 988K XE is Cat's first diesel/electric-drive loader, employing a durable switched-reluctance drive motor, generator and inverter, coupled with a mechanical gear box and axles. "The 988K XE lifts fuel efficiency and productivity to new levels," Cat says.
Wacker Neuson/Kramer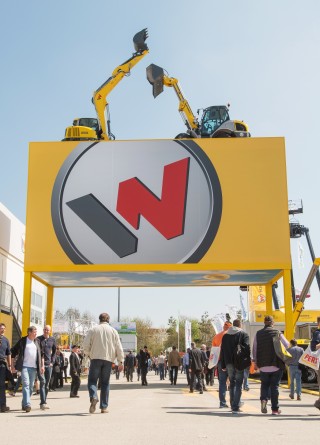 Sister companies Wacker Neuson and Kramer are also going for it at Bauma, taking 6,000 m2 of outdoor space to present 'an electrifying world of discovery'. The entire zero emission portfolio, including the latest additions to the family, will be taking center stage at Wacker Neuson and Kramer's electrifying stand. A "zero emission boulevard" runs through the entire stand and features a host of different interactive stations. Visitors will be able to experience the broad portfolio of battery-powered rammers and vibratory plates as well as electric wheel loaders, electric dumpers and electric mini excavators. New(-ish) products include the fully electric EZ17e zero tail mini excavator and the DW15e electric wheeled dumper, both of which you may have already seen at 2018 trade fairs.
Bobcat
Bobcat is also promising 'an electric display' along with advanced augmented reality technology. New products include the Bobcat E10e electric mini-excavator (below), billed as the industry's first commercially available fully-electric zero tail swing mini-excavator in the one tonne class.
Case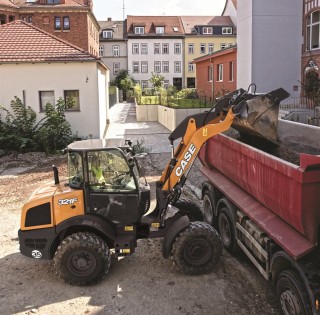 Case Construction Equipment's display includes the new CX90D excavator, the TV450 compact track loader, the CX18C and CX37C excavators and the 321F compact wheeled loader (shown above).
The CX90D MSR completes Case's D series excavator range by adding a midi-sized option.
The TV450 is the largest compact track loader ever produced by Case, with an operating capacity of 2,040kg at 50% tipping load.
The 321F has a new electrohydraulic (EH) control system and hydraulic quick coupler that improve visibility, while a new frame for the forks increases the rollback angle, allowing for safer handling of loads.
Road builders might be more interested in the 856C AWD grader, 1650M dozer and the Iveco X-Way tipper truck.
The new grader (shown below) has a patented combined steering function that provides the template for the next generation of Case graders. It will be available on Case graders throughout Europe from 2021. Combined steering uses a network of angular sensors to provide steering feedback to the vehicle control unit. It can be activated when required at the touch of a button and used in conjunction with variable steering ratios to adapt to site conditions.
Case has combined the industry-standard controls for the front wheel and frame articulation angle into one function, managed through either the joystick or the steering wheel. For those job sites that require tight turns in confined spaces, these two functions can be supplemented by the wheel lean function. When not required, wheel lean function can be disconnected from the combined steering, leaving wheel steering angle and frame articulation moving simultaneously.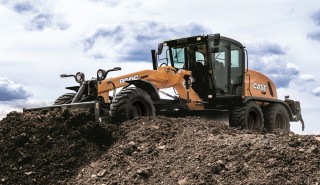 Hyundai
Hyundai Construction Equipment is launching the HX900 L crawler excavator, a 90-tonne machine replaces the R800LC-9 model. The HX900 L is the second largest Hyundai machine in the stable behind the 120-tonne R1200-9. [See previous report here.]
For more practical details of Bauma 2019, including how to get there, gate opening times and all that good stuff, see www.bauma.de