Over on the Case stand, one of the company's biggest wheeled loader's the 1221E was dominating the stand with its bucket in the raised position. This machine carries a 4.8m3 bucket and is powered by a fully-electronic, six cylinder Tier III engine which produces 239k/320hp. It has an operational weight of 30,360 kg.
Another machine dominating the Hillhead skyline was this Volvo EC700B HR, which is owned by AR Demolition Ltd. The machine was due to leave Hillhead to go straight to its first job for the company, and they have promised to give us some photos of the machine at work over the coming weeks. We look forward to seeing them and sharing them with the Digger Blog readers.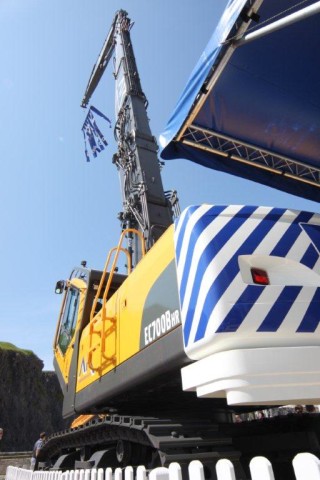 Another demolition tool with some impressive art work was this Stanley/La Bounty MSD 9500R boom mounted shear, a real heavyweight piece of kit.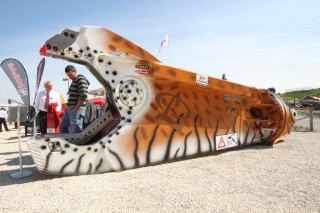 A new product was on display over at the JCB stand. The JS260XD is a 26 tonne model from the company's new generation of heavy tracked excavators. This machine features a stage IIIB and Tier 4 compliant Isuzu engine and was displayed with a JCB crushing bucket.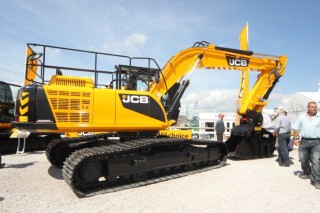 Two British companies were getting in the patriotic mood in this Olympic year, by displaying items of plant emblazoned with Union Jack livery. On the Thwaites stand we saw one of the popular dumper manufacturer's 6 ton power-swivel models with a nicely decorated skip.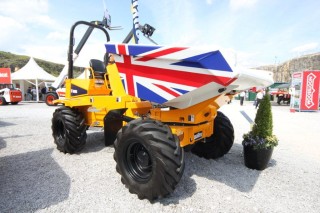 Meanwhile over at the Miller stand, the famous North East bucket and attachment manufacturer, was displaying this impressive looking bucket. It would almost be criminal to force that smart looking bucket into the ground!

On the Liebherr stand a number of items were seen in the livery of Chepstow Plant, including the new TA230 Litronic which is in the 30,000 kg class and has a dump body capacity of 19.0 m3.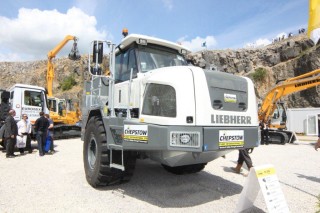 Also sporting Chepstow Plant colours was a 734 Litronic crawler tractor, which competes in the popular D6 size range. This machine is powered by 150kw/204hp engine, has a top operating weight of 24,961kg and features hydrostatic travel drive which makes the machine highly manoeuvrable and able to offer constant power to both tracks at all times.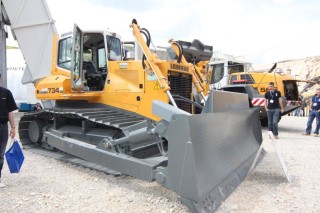 Every now and then this large Terex TR100 dumptruck was given a spin around the demo area and it certainly made visitors look up as they heard the roar from its 703kw/943hp 16V Detroit Diesel engine, which I have to say sounded sweet!
Back on the Engcon stand now and I think this Kubota KX80-3 might be owned by UK tiltrotator and specialist equipment pioneer Eddie Warrener. This really is some piece of kit with low ground pressure track pads and the Engcon tiltrotator, it is ideal for the difficult and taxing jobs that Eddie undertakes.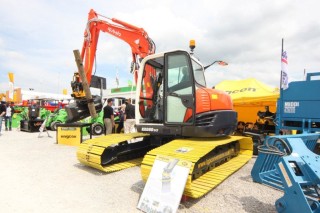 Finally a get together of members of the Classic Machinery Network forum had been arranged to take place around 1pm at the Finning Caterpillar stand. A good number of members showed up at the show but sadly not all had heard about the meeting around the Cat 6030. Those that did turn up are from left to right, Jeremy Rowland, Mike Davison, Nick Drew (yes I really am that short!) Paul Argent, Ian Fletcher, Fred Evans, and TBA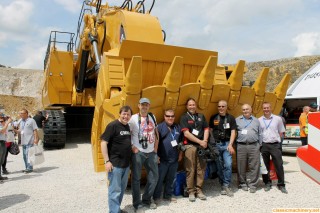 Photo courtesy of Jeremy Rowland (CMN)
All in all a fantastic show, and it was great to catch up with so many industry friends and followers of the Digger Blog. Thank you all for your kind words about what I am doing here, it certainly makes all the hard work and effort worthwhile. Now I guess our thoughts must turn to the next big event in the UK show scene, with the inaugural Plantworx exhibition next May, which I am sure is going to be a massive hit with visitors and exhibitors alike.