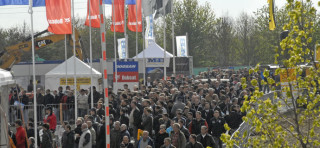 In no particular order, you might like to check out the following exhibitors:
Kobelco
The big news on Kobelco's stand is the arrival of an all-new Japanesebuilt range of Generation 10 excavators in the 20 to 35 tonne weight range.
Replacing the existing Generation 9 machines, the latest versions are the first Kobelco machines to comply with Stage IV exhaust emissions regulations.
Kobelco is not saying how many Generation 10 machines are in the range, though it hints that two of them will be available on the European market this spring. At least one of them will be the SK210LC-10, pictured below.
Kobelco likes to see itself as the brand that "saves you money through the use of many technical features built into its products" – in much the same way, coincidentally, as most other major manufacturers do.
Hence, Kobelco says that with these machines it has further reduced operational costs with even greater fuel saving through what it calls regenerative technology. It says, for example, that the Generation 10 SK210LC-10 excavator with its Stage 4 engine delivers greater performance and efficiency in its working environment when compared to the previous Generation 9 equivalent.
Hitachi
Hitachi is displaying a selection of new and existing machines ranging from small hand-held compactors to its latest rigid dump-truck for mine and quarry use. At the small end, there is the new TMR65KDS walk-behind roller (pictured below), which is part of a new line of light compaction equipment from Hitachi.
With only a 650mm drum width, these lightweight machines offer excellent manoeuvrability, says the manufacturer. A high level of linear pressure ensures optimal performance and a powerful compaction force. Low overall height affords good visibility and safer working conditions for the operator, too.
Joining this machine are the ZV-R and XV-RLS vibratory rammers, part of a new range of light compaction equipment. Described by Hitachi as user-friendly and offering a high power output, these machines feature low-vibration handles and easy-to-maintain engine oil and air cleaners. Three new Hitachi mini-excavators are also making their debut at Intermat. According to Hitachi, the ZX17U-5, ZX19U-5 and ZX26U-5 are all more productive than any other brand of machine in their respective classes.
The two smaller machines are designed for use in confined spaces, being very narrow and compact. They feature tracks that can be expanded from a narrow 980mm width to 1.28m for greater stability. Other new models on display include two versions of a new 35 tonne excavator. The ZX350LC-5 long-reach excavator, designed for dredging and slope profiling job, has a maximum reach of more than 20m. The related ZX350LCH-5G is an EU Stage II compliant model designed for the African market.
The largest machine on Hitachi's stand is the EH1100-5 rigid dump truck, first seen at Conexpo-Con/Agg in Las Vegas last year.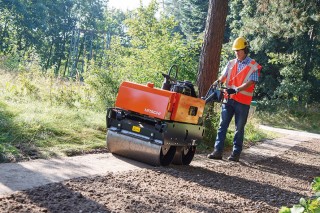 Volvo is unveiling more than nine new machines at Intermat this year. Highlights will include the company's very latest additions to its excavator, wheeled loader and compact equipment product ranges, including the new EC220E tracked excavator, EW160E wheeled excavator (pictured below) and the L90H wheeled loader.
Building on the reputation of its D-Series excavators, the new 22-tonne EX220E offers improved fuel efficiency and reduced emissions thanks to its Volvo D6 Stage IV engine. Increased pump input power makes for highly responsive operation and greater productivity, with faster cycle times, says Volvo.
The new EW160E is the latest incarnation of Volvo's popular 16-tonne wheelie (which has been around since 1998) while the 17-tonne L90H wheeled loader joins the two smaller L60H and L70H machines in the range.
The new L90H is powered by the same D6 Stage IV engine as the EX220E excavator.
Volvo will also be wheeling out its futuristic GaiaX excavator concept again (which readers might remember seeing at last year's Conexpo show in Las Vegas). Hailed as the shape of things to come (in 2030, estimates Volvo) the GaiaX is an electrically-powered machine that makes use of 'augmented reality' control. Like most other exhibitors, Volvo is fielding a team of technical sales people to welcome visitors to the stand and explain the wonders of their latest innovations.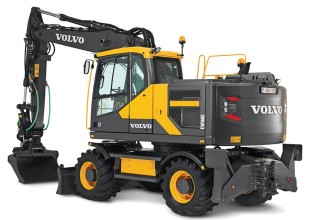 Case
Case Construction Equipment is launching its new D Series crawler excavators at Intermat. The four new models, ranging from the 25 tonne CX250D to the 40 tonne CX370D, are all Stage IV compliant and promise enhanced fuel efficiency and productivity.

Case says that the D Series' new electronically controlled hydraulic pumps and larger main valves boost productivity and improve the machines' responsiveness.
This results in cycle times up to 12% faster than the previous generation's.
And fuel efficiency is, on average, 8% better than that of the previous generation of machines, says Case.
The new operators' cab has a cushioning system to minimise noise and vibration and the controls are all fully adjustable to provide the best possible working environment.
Also on display is an example of the new Case F Series wheeled loaders (the 321F is pictured below). Featuring heavy duty axles and a rear-mounted engine that increases bucket payload, the F Series loading shovels are ideal for quarrying, waste handling and heavy construction, according to Case. Joining these machines on the stand is Case's first ever grader, the C Series. Case says this machine "bristles" with features that ensure optimum controllability, performance and traction.
Case is also unveiling five new models of skidsteer and track loaders at Intermat, as well as the new 570T backhoe loader designed specifically for the requirements of the African and Middle Eastern markets.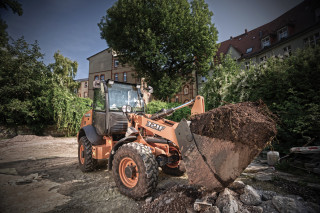 Doosan
Doosan's new DX235NLC-5 Stage IV compliant crawler excavator is making its world debut at Intermat. This 22.4 tonne machine (pictured below) is powered by Doosan's 6-cylinder turbocharged DL06P water cooled diesel engine which helps the new machine deliver 10% more power and 13% more torque than its predecessor. The DX235NLC-5 is factory-fitted with the new Core TMS wireless fleet monitoring system, a feature not previously available as standard on Doosan excavators but now common to all LC-5 generation machines above 14 tonnes.
The cab is equipped with a new Trip Meter Setting screen which allows operators to check fuel consumption daily, or over any preferred period, directly from the control panel.
Also new is the Smart Power Control (SPC) system to optimise balance between the pumps' output and the engine power.
The smaller (17 tonnes) DX170W-5 wheeled excavator is also seen for the first time here at Intermat. Again, this model boasts more power and lower fuel consumption than its predecessor thanks to the Stage IV-compliant DL06P engine.
By adding an extra 220kg to the counterweight and an extra 50mm to the wheel base, Doosan has also boosted the machine's lifting capacity by 10%. Like the larger DX235NLC-5, the new wheelie has Doosan's Core TMS fleet management system fitted as standard.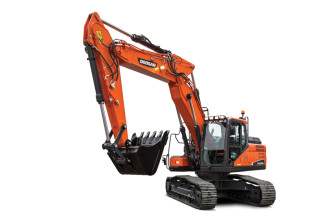 Hyundai
Hyundai Heavy Industries (HHIE) has launched what it describes as a "radical update programme" for its construction equipment, the first fruits of which are the new Stage IV-compliant series which make their global debut at Intermat.
Besides being powered by new Stage IV engines to give reduced exhaust emissions and improved fuel economy, the new machines boast numerous other updates ranging from new cab features such as dashboard and instrument cluster to the hydraulic control and the exterior design.
Among the company's heavy machines on display are the first six models in the all-new HX series of excavators, ranging from the 22- tonne HX220L to the 52-tonne HX520L.
All are powered by Cummins Stage IV engines except the HX520L, which has a Scania engine.
The new machines also offer improved visibility from the cab, more accessible air filters and a number of minor aesthetic improvements. Also new are the first two models in a new range of wheeled loaders – also both Stage IV-compliant. The HL955 and HL960 are equipped with Cummins diesel engines and are said to deliver 10% lower fuel consumption than comparable machines.
Buckets have been redesigned for 5% more efficient handling and less spill and the ROPS/FOPS cabs are completely redesigned for better noise reduction, less vibration and more space for the operator. One brand new mini-excavator, the 1.6 tonne R17Z 9A (pictured below), and an updated one, the R25Z-9A which has a new Kubota engine, join six other mini- and midi-excavators on the stand. In total, Hyundai is displaying no fewer than 29 machines on its 3,000m2 stand.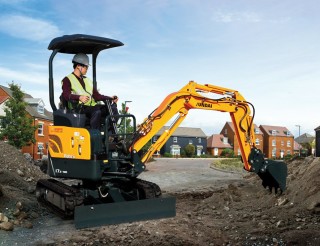 For more details of how to get there, opening times and other good practical stuff, see http://paris-en.intermatconstruction.com/