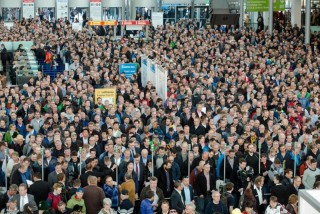 First of all: a transparency disclosure. I was there courtesy of Liebherr, who take a special interest in social media. There is of course much to report on the Liebherr stand, but that will be the subject of a separate post. This is an account of some of what I saw when I managed to escape the clutches of Liebherr's very warm and convivial embrace.
While Liebherr may have had the biggest stand, it did not have the biggest machine. As far as I could tell, that honour goes to this.
The Komatsu PC7000 mining shovel has an operating weight of nearly 700 tonnes and a front bucket capacity of 36 cubic metres.
Moving on to another Japanese manufacturer and here is the Kobelco SK200H, the nearly ready for launch version of its hybrid excavator. This is actually the Japanese version; as you may have read in our Plant News section, the target launch date for the EU model is the first quarter of 2017. The base machine is a Generation 10 SK210LC, with the addition of an electric generator, electric swing motor and battery, rather than capacitor. Target fuel consumption is 15% less than the regular SK210LC-10 with no loss of digging performance.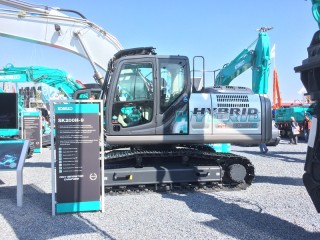 Next to catch my eye was this Fuchs MHL 390 material handler with a cab that not only rises (which is not unusual for such machines) but also bows down to the ground for step-free entrance. It reminded me of the Kocurek Step Safe Cab that Volvo showed at PlantWorx 2013.
The MHL 390 is the largest of the Terex Fuchs material handlers, with a 24.5m reach and 300kW engine power.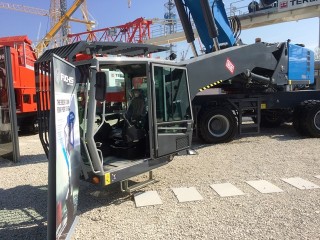 I didn't get chance to talk to anyone on the Merlo stand but they had a fine array of machines lining both sides of the roadway. Merlo came to Bauma trumpeting the fact that it has notched up 100.000 telehandlers sold. Sadly for them, JCB was able to trump that with news of its 200,000th telehandler.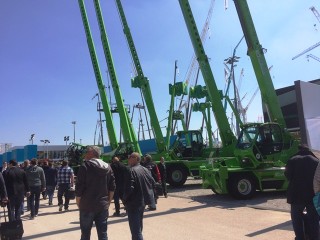 Bomag had a veritable army of road rollers on parade including a new generation of lightweight tandem rollers.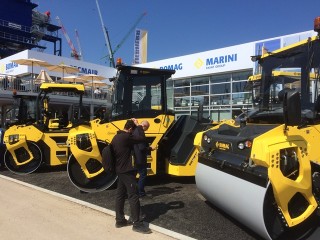 Next was Magni, the Italian telehandler manufacturer that made its debut at Bauma 2013 and has been making waves since. Riccardo Magni was Manitou's Italian partner for many years until striking out on his own with his own range of machines. On show at Bauma was the new RTH 5.39 model, lifting a maximum of five tonnes and with a 39-metre reach it is the highest reaching machine that Magni has produced to date. Interesting to see that it had the name of GT Lifting painted on the side of it, indicating that it is on its way to Sussex after the show. GT Lifting was previously a loyal Merlo customer, although it seems to have been preferring Magni machines over the past year or so.
Still on the lifting side to check out the new 600-tonne Tadano that I've been hearing about, with its 'triple boom' system instead of a boom suspension system. Surprisingly radical for such a conservative company. It looks like it will be 2017 before deliveries start, as it is not even taking firm orders for it yet. However, there seems to plenty of interest in it form the crane community.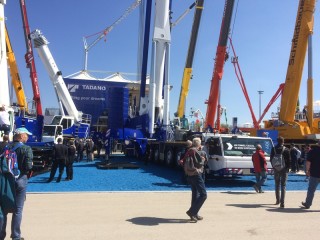 Swinging back round towards the centre of the showground, and back to digging, I went to catch some of the shows. There was a small demonstration area featuring the new JCB Hydradig, billed as "the first true wheeled excavator designed for purpose, from the ground up". It is certainly an eye catching design, with its engine and tanks mounted to the chassis to lower the centre of gravity and greatly increase stability. (I had tried to photograph it the day before during a sneak preview of the show but was a little non-plussed to be told by an over-officious German employee that I was not allowed to!)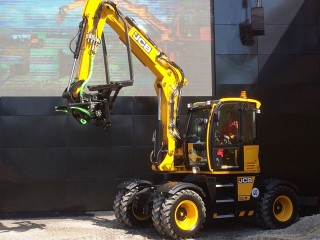 Key specs of the Hydradig are: operating weight 10,208 to 11,457 kg; rate power of 81 kW (109 hp); dig depth of 3.37 to 4.41 metres and dig reach of 6.46 to 8.02 metres. The twin articulation boom offers lift capacity of 10 tonnes through 360° off dual tyres.
Lord Bamford says: "The Hydradig really does have innovation running right through the heart of it. In fact Hydradig will transform the industry and I am certain you will quickly appreciate its benefits." You know, he might be right.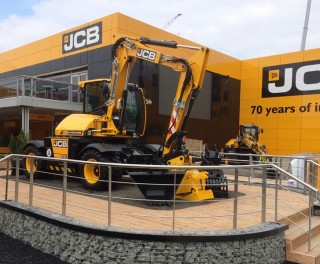 Next to catch my eye was a familiar looking display with an unfamiliar branding. Weycor is the new name for the wheeled loader manufacturer formerly known as Atlas Weyhausen.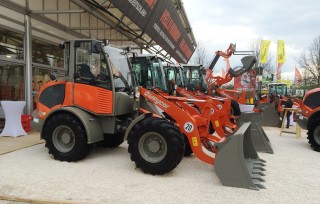 I guess there has been some branding confusion ever since Terex acquired and then disposed of what is now Atlas Cranes & Excavators, owned by Fil Filipov. (Incidentally, the Atlas website has the most airbrushed, truncated history I think I've ever read: "We started out in 1919 and we're still great," it might as well say.)
Anyhow, the Weycor machines looked good and included the new 13.8-tonne AR250e, whose Deutz TCD 6.1 L6 engine with DOC/DPF/SCR exhaust system is already US EPA Tier V compliant four years ahead of likely requirement. Read more on this machine at ar250.de.
Branding was also a topic of discussion back on the Terex stand, where the Demag name is being revived for its German mobile and crawler cranes. I confess to a double-take when I saw this: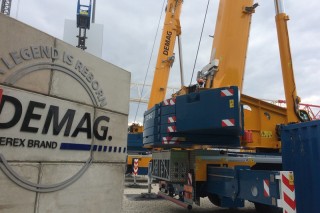 It must have been a bit of a blow to some of the Terex folk to realise that people would rather buy a Demag than a Terex. However, isn't that why Terex bought Demag in the first place back in 2002? Maybe nostalgia is back in fashion.
Branding has always been a complex issue in the construction equipment industry, with so many alliances, badging deals, mergers and acquisitions. It comes to something, though, when Terex think it a bad idea to use its name for cranes or aerial work platforms (Genie is much preferred) but Volvo is quite happy to continue using the Terex name for the Motherwell hauler truck business it took over in 2014. It was a surprise
However, by far the most surprising sight I beheld at Bauma 2016 was this: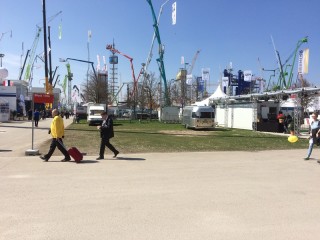 The whole showground had sold out long ago and here was a rather large area – the size of a tennis court, I'd roughly estimate – that was completely unoccupied. A quick scan of the catalogue reveals that this space had been booked by Multiquip Inc of Carson, California. Unusual to get a no-show from an exhibitor booking such a prominent space.