I am not in a position to argue with that assertion, but what I do know – because the people at Volvo have told me – is that they've bought themselves a new digger to make the place even better. A Volvo ECR58D reduced swing radius compact excavator is helping with some remodelling works.
Over the past 28 years the park has been landscaped into one of the UK's most popular caravan and camper van sites. The family run business, headed by John Fleming, has continued to develop facilities with the addition of static holiday homes and lodges.
To assist in this development, Mr Fleming bought a new six-tonne Volvo ECR58D from Volvo's recently appointed utility dealer for the north of Scotland, CSM Sales.
"The ECR58D replaces an older six-tonne machine and I have to say I'm impressed with the superior build quality as well as the handling and performance of the Volvo," he says. "Having the back-up from on hand from CSM and Volvo is equally important so our initial thoughts on purchasing our first Volvo are very positive."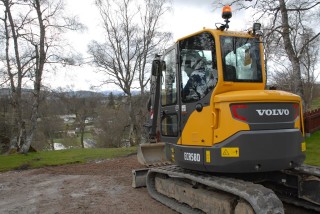 The machine is ideally sized for the tasks required of it at the caravan park, which include general maintenance around the site, profiling and landscaping the immediate surroundings and preparing the bases for the new homes.
"Another important feature about the machine is its ability to operate quite happily at less than half throttle which means our residents aren't disturbed by excessive noise emissions around the site," Mr Fleming says, "and this also greatly assists with economical fuel consumption – Yes, it certainly is a good all-rounder."