Ann Hills has worked at the facility for over 27 years and has seen many changes in articulated hauler manufacturing during her time with the company. She has kindly sent the Digger Blog some archive scans of DJB trucks in action.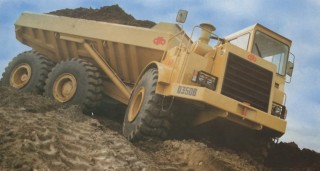 DJB Engineering was formed by heavy equipment & engineering specialist David John Brown in 1973, with the first ADT being the D250 which was launched in 1974 at the London Public Works Show. Later upgrades included the D275 as seen in this shot.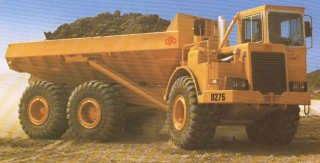 The DJB product's featured well proven Caterpillar components including engines and drivetrains, which made them incredibly popular with end users, especially loyal Caterpillar customers.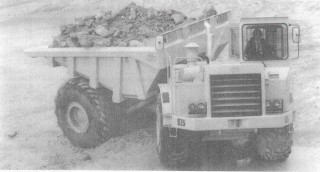 DJB also developed many variants of the product including many one off models like this low profile D300 underground model.
Due to the success of these machines in the field, it came as no surprise that Caterpillar acquired the DJB design rights in 1986 and subsequently took over ownership of the company.

Over the years the company's own research & development department have made numerous conversion models like this D400E, which was originally built in 1993, but was converted for use as a dust suppression unit in 1997. This machine is still used today at Caterpillars own proving ground/demo quarry at West Cornworth, County Durham.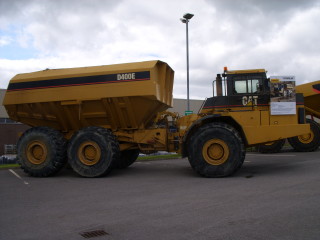 Photos of the older DJB models seem to be incredibly rare nowadays, so I would like to thank Ann for sharing these with the blog.