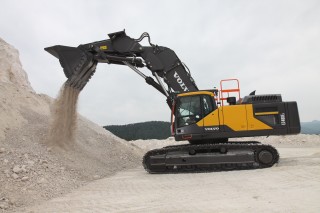 Dolkam Šuja produces around 540,000 tonnes of dolomite a year from its 16 hectare site. The material is primarily used in the metallurgical industries. A family business, the current management is the second and third generations of the Matat family.
Over the past 40 years or more, Dolkam Šuja has tested every combination of machines in search of the optimal equipment for its working conditions. It has concluded that only a front shovel excavator will do.
"The selection of equipment in quarries is influenced by the layout and geology but also regional preferences. Further east, front loading shovel excavators are often preferred," explains Peter Lam, Volvo CE's demolition and special application solutions specialist for Europe, the Middle East and Africa (EMEA).
"The main benefit of the front shovel is the high breakout force delivered by the kinematics of the boom and arm, meaning it can operate with larger buckets and achieve greater productivity. It also has in advantages when working in confined spaces and there is less wear on parts, such as tyres, when loading blasted and abrasive materials," he says.
Dolkam Šuja challenged Volvo to come up with an excavator that met its requirements. The result was a Volvo EC480EL crawler model, adapted by Volvo's special applications partner SNS from South Korea.
The 47-tonne machine began life at Volvo CE's South Korean plant in Changwon, before SNS added a bespoke arm, boom, tip bucket and additional counterweight. The excavator then returned to Changwon for testing before being shipped to the customer.
"What is so great about this modification is that we were able to work closely with our partner to incorporate all original Volvo components, including cylinders, pins, bushings and the linkage system, into the design so that Volvo quality is built in," Peter Lam says.
Attila Annus, general manager of local Volvo dealer Ascendum Slovakia, says: "Our customer is very satisfied with the new machine and we believe we can continue to grow in this application in our area. The collaboration with the Volvo special application team was really appreciated during the complete process and gave us the possibility to provide the unique solution customer strongly required."

Volvo CE sold its first front shovel excavator globally, a modified EC700CL crawler, in Indonesia in 2014 for slag handling, where the hot material posed a similar risk to rubber tyres and it was safer to move hazardous material away rather than towards the cab and operator.
The company has also achieved some success with front shovel excavators in quarrying, mining and hot slag handling applications in India. SNS gained its CE marking especially to be able to supply the EC480EL front shovel to Dolkam Šuja in Slovakia but this now opens up many more opportunities for Volvo dealers in Europe to offer similar front shovel models.
"At Volvo CE we are flexible – our customers are not limited to the specific products in our portfolio. We always enjoy the challenge of listening to their needs and, with the help of strong collaborative partners, tailor-making a solution just for them," Lam concludes.
EC480EL front shovel specifications
Machine weight: 47.3 tonnes
Boom length: 4.3 metres
Arm length: 2.3 metres
Tilt dump HD bucket: 2.6 cubic metres
Dump height: 4.5 metres