The JCB 3CX Eco backhoe loader, in its stunning Union Jack livery is the final exhibit within JCB's new permanent exhibition and takes pride of place just outside the JCB shop. We have a 1:32nd scale model of this spectacular looking machine, which is made by Britains, to give away to the winner. And a JCB VIP visitor's baseball cap for the runner up.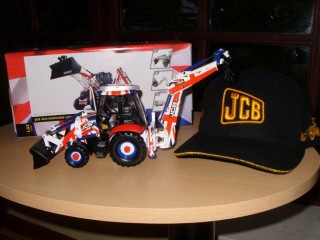 Some of the entrants so far seem to be struggling to find the correct answer, so as its Christmas, here is a little clue. Study the following photo to find the correct answer to the question.
Q. What was the address of Mr Joseph Cyril Bamfords garage lock up where the business was originally established in 1945, was it..
A. 3 Staffordshire Street
B. 41 Rocester Lane

C. 28 Derby Road
To be in with a chance of winning just send your answer to the question to the usual digger@ email address..
All entries will go into the hat and the first two drawn out on January 31st will win the prizes. Winners will be announced on the blog on February 1st and notified by email.
All that remains for me to do is to wish you all the very best of luck!