Now the snow has thawed in Cambridgeshire, I am sure both the muddy and waterlogged site, will make for an interesting few days. This made me think back to when keen Digger Blog reader Danny Hall, sent in a series of photo's that he came across while surfing the web. They show a Doosan DX35Z zero tail swing mini excavator which has become seriously bogged down.
The stricken machine was eventually extracted with the help of a Daewoo 75-V Solar 7.5 ton machine which was used to dig around the stricken 3.5 ton excavator, before pulling it out of the hole with a set of chains.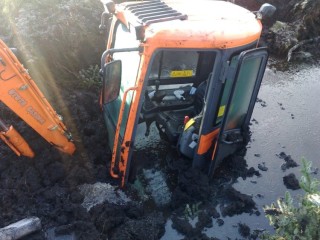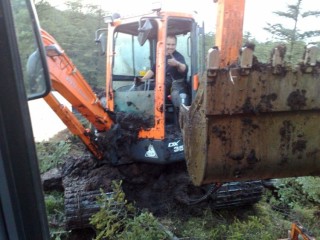 Nothing damaged except the operators pride and with a good pressure washer, I am sure the machine was looking as good as new!
Very much looking forward to spending some time with the guys from Autec Training. Let's hope things dry up a little over the bank holiday weekend and we dont find any Fenland boggs.
On Twitter this week I did ask.... NPORS or CPCS? Mixed reviews.. but fair to say still seems very little love for the CPCS! (Cost was the number 1 issue) Join the conversation on Twitter via @TheDiggerBlog
Thought some of you might find this interesting: "Trevor Gamble says that he is finally feeling loved." For years it was "a nightmare", he says.