First up is a shot of one of Sir Alfred McAlpine's Komatsu D65EX dozers that was working on the A30 Innis Downs to Indian Queens improvement works in Cornwall in 2006.
We were busy digging out for a series of ecology lagoons alongside the carriageway and had come across some very soft ground conditions in this particular area. The dozer driver thought he would be able to push the material towards me to be loaded onto the awaiting ADT's, but after a very short while he started to get that all too familiar sinking feeling.
He was now at the point of no return so it was time for yours truly to go in and rescue the stricken dozer with the Volvo EC210LC that I was operating on this job. A quick tug on the blade and he was out and the idea of trying to use a dozer on that job was quickly put to bed!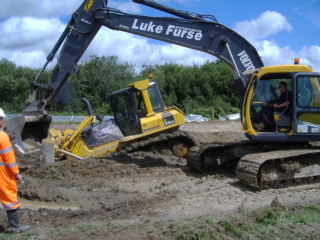 Many of the other photos in my collection have been downloaded from various machinery websites over the years. Such is the popularity for viewing other people's misfortunes; many of the forums now feature their own accident and disaster's sections.

This next shocking photo is from a series of shots that have done the rounds on the forum circuit in the past. It shows the results of some serious vandalism that took place overnight somewhere in the States; allegedly it was carried out by a disgruntled ex-employee who decided to smash up all the machines including this Caterpillar D6N LGP dozer and several other machines and trucks.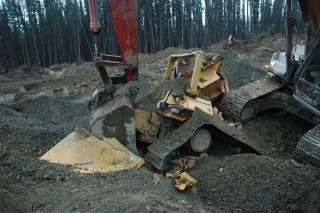 Once again in America this Caterpillar D6R XL machine is in a spot of bother by a riverbank, it is being assisted in its recovery by a Cat long reach excavator to the front and another dozer to the rear.
Could have been a lot worse though, like in this photo of an unidentified Cat dozer that has gone through the ice. Can you imagine the recovery and repair bill for this accident. Oh well at least two of the lights are still working!