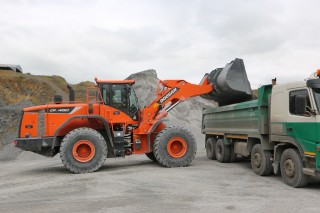 The new DL450-5 wheel loader is working at Ducon's Ballyhest limestone quarry near Castlecor in Mallow. With its heaped bucket capacity of 4.5m3, it is loading and stockpiling material from the quarry's mobile crushing and screening system.
Output at Ballyhest Quarry is split between supplying the limestone aggregate used in the readymix concrete and concrete block production at the main Ducon manufacturing plant at Ballymaquirk and producing various grades and sizes of aggregate to sell to external customers.
Plant manager John Murphy paid a visit to Alpha Quarry Products up in Northern Ireland to see one of the new Doosan machines in operation and get feedback from the users there. He heard enough to persuade him to buy and so far has not been disappointed.
"You expect teething problems with new machines, but we have 200 hours now on the new DL450-5 and we haven't had any at all," he says. "This echoes the comments of the operator at Alpha who told us the DL450-5 was the best wheel loader he had ever operated."
The Scania DC13 engine uses cooled exhaust gas recirculation and selective catalyst reduction after-treatment technologies to meet Stage IV emission regulations without a diesel particulate filter.
"We liked the absence of a DPF and with AdBlue we can control operating costs," he says. "Costs for running plant can get out of control fairly quickly so another factor for us was the excellent fuel consumption – at just 15-16 litres per hour, the DL450-5 burns a lot less fuel than many of the other machines on the market."

He's impressed by its muscles too. "The DL450-5 is very powerful and responsive and even going up a steep climb with a full load on the front end it has plenty of power to push on."
The ZF Type II axle with an automatic hydraulic differential lock (HDL) helps protect drive system components. Says Murphy: "There is no heat produced inside the axle, and tyre wear is reduced and fuel is saved when you drive, even on corners, with reduced resistance. The HDL axle is just one of a host of features included as standard on the DL450-5, which are options on other machines, such as the ride control bucket suspension system, an SKF Vogel auto lubrication system, a three-stage air filter system with turbo three cyclone separator, a third spool additional hydraulic line and a Grammer Actimo XXL double air suspension seat."