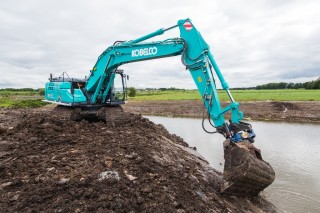 Kobelco Construction Machinery Europe (KCME) has delivered the first machine from its new range to Kok Lexmond, a civil engineering contractor that specialises in roads, waterways and groundworks.
Kok Lexmond's Kobelco SK210LC-10 excavator will work in conjunction with a SK350LC-9 that it purchased in July this year. These two recent acquisitions follow previous experience with Kobelco machinery before the Japanese manufacturer's return to direct sales on this side of the world in 2013 and the establishment of Kobelco Construction Machinery Europe BV in 2013.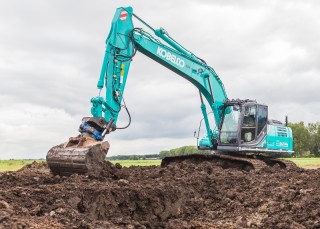 Henk Kok, the workshop manager at Kok Lexmond, says the deciding factors for buying Kobelco were the low fuel consumption and the previous good experience of machine reliability and the back-up service from Kobelco dealer Kemp Groep.
Pictured below is operator Arnold Arentze at the controls, and below that is footage of the machine in action.