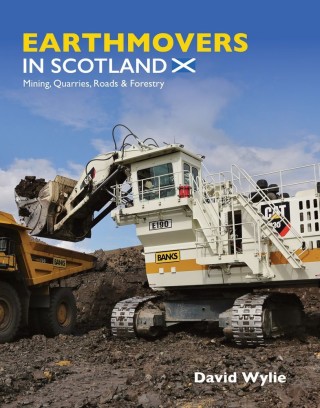 The book is published by Old Pond Publishing, the same people that brought us – among various other digger and tractor books – Keith Haddock's British Opencast Coal: a photographic history 1942-1985, which was reviewed here this time last year.
Wylie's book is less history and more a contemporaneous account of various earthmoving sites he has visited in recent years, and the people . This is because the book is, in fact, a collection of 32 articles that he has had published in the trade press since he switched tracks from vehicle engineering to journalism in 2010. As such, it can be a strange read at times; reportage making frequent use of the first person pronoun generally works better in newspapers and magazines than books such as this. However, it is a style that lets Wylie inject personal perspective into his writing.
If you are paying the £34.95 asking price for this, it is probably more likely to be for the pictures than the words. Enthusiastic reviewers on the Old Pond website describe the photographs variously as 'brilliant', stunning' and 'outstanding'. They are certainly worth a place in Scottish industrial heritage archives, and provide ample evidence of the importance of heavy machinery to the Scottish economy.
Most of Wylie's site visits are to opencast mines and quarries. A couple of the chapters are not even about earthmoving at all. Materials handling at Inverness harbour and forestry work get a look in, just to add to the mix, as do the cranes building the Queensferry Crossing, although there is no mention of any of the weather problems they've been having on that job, which seems remiss for a journalist.

One final warning: if you do put this book on the Christmas list that you send to Santa, be sure to hang out an extra-large stocking…