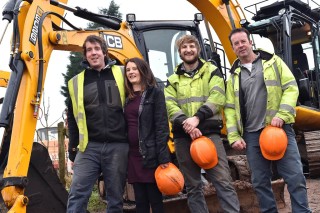 Since Frank started the business in 2002, more than 1,000 trainees have passed through his doors. Working alongside him are his eldest son Ben as an instructor/tester and Ben's partner Sarah Addison who is company secretary. There is also Frank's son-in-law, Tom Cowley, who is an instructor and an NVQ Assessor. That's them in the photo above, left to right, with Frank Williamson himself on the right.
Frank, Ben and Tom have all worked for JCB in the past and have just bought a 13-tonne JS130 tracked excavator made at JCB Heavy Products in Uttoxeter. This is the fourth JCB machine they have bought in the past three years.
The company's fleet of 24 machines also includes a JCB 525-125 HiViz Loadall telescopic handler, a JCB 8026 CTS mini excavator, a JCB 426 wheel loader and a JCB 3CX backhoe.
Frank, 55, says: "I'm from a farming background and bought my first JCB – a 3D backhoe loader – when I was 18. I've operated many more since and later as a driver with JCB's Dancing Diggers demonstration team. "
He's also apparently something of a minor celebrity… "I've even appeared as a JCB driver on the TV show Top Gear and in two films – Hitchhikers Guide to the Galaxy and Ali G Indahouse. Actress Lesley Joseph from Birds of a Feather lived with us once for two weeks while we trained her to operate a JCB excavator for an ITV1 programme called Celebrities Under Pressure."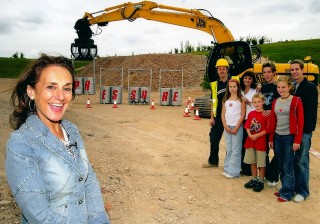 That's that Lesley Joseph off the telly with the Williamson family back in 2003.
Frank adds: "We really rate JCB machines and being environmentally friendly is part of my firm's remit too. We love working together as a family and that's set to continue because Sarah's expecting a baby. It means we already have another operator in the making."