Regular blog readers will probably recall Micky Denne's cracking photos that we published back in October this year, featuring the Wimpey motor scrapers at work on the A13/M25 Tilbury-Southend road construction job in 1980. Although Micky is now retired, he still works on a part time basis on the ports of West Africa, where he still enjoys getting hands on with the plant and machinery. During a recent work assignment in Accra, at the Tema Port, Micky spotted this look a like high drive dozer, which at first glance looks like a model from a very famous American brand.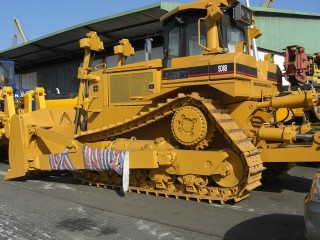 Micky decided to investigate the machine a bit further, and managed to get a closer look. It was in fact an SD8B model, made by Chinese manufacturer Hebei Xuan Hua Construction Machinery Co Ltd.
Micky said, "When you get up close to this machine, the difference in quality is very noticible when compared to the original machine it is modelled on," Micky also asked if it was a possibility that these machines are being manufactured under licence? I said I wasn't sure, but I bet some of our readers will have the answer. So it's over to you guys to offer us some advice on this one!