Finnish contractor E.M. Pekkinen Oy, is currently working in co-operation with the YIT Group, on the instalment of a 43,850 metre pipeline for Gasum Oy, who own and operate the Finnish natural gas transmission system.
The pipeline will eventually run through 5 municipalities which surround the capital Helsinki, in the Uusimaa region, including Mantsala, Hyvinkaa, Tuusula, Nurmijarvi, and Vihti.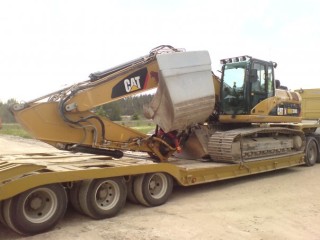 Timo is currently operating a 2008 model Caterpillar 324DL hydraulic excavator on site. The machine is equipped with an Indexator Rototilt RT80 tilt rotator, which as we know are basically a standard fitting on all Scandinavian sites.
The team also have a large arsenal of attachments available for use, which includes Krupp 1500 HW and Rammer S82 hydraulic breakers, Allu screener bucket, Movax SP50/SP60/SP60F and NPK sheet piling units complete with Movax Auto B automatic steering units, hydraulic water pumps, and a full range of buckets.
The 324DL has been slightly tuned up to cope with the demanding sheet piling tasks and has an optional higher engine output of 140kw.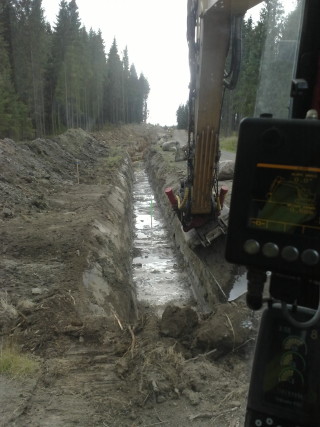 The pipe itself is made in Germany by Mannesmann, and is a DN500 (20") steel pipe with a wall thickness of 6 to 9 millimetres, with three layers of thermoplastic polymer coating on the outside to protect from the severe winter weather, and an epoxy paint coating on the inside.
Most of the route which the pipeline will take is through forests and fields, but it is also set to pass underneath 13 main transport routes which will include the E12, which is the major road between Helsinki and Vassa; the Finnish main railway connection and also under the Vantaa river.
Most of these obstacles will be bypassed by using directional drilling techniques, pipe jacking and open trench work on the approaches.

There are currently around 100 site personnel working on the job including site foremen, general construction workers/groundworkers, welders, machine operators, surveyors and mechanics.
There are around 15 excavators of varying sizes working on site, 6 trucks, 2 backhoe loaders, and support vehicles such as cranes, tractors, and wheeled loaders.
Some of our other Finnish Digger blog readers are also involved on this job including Hannu Rinne-Laturi who was featured in one of last year's posts, who has 2 or 3 of his Hitachi machines on site. Jarmo Koivunurmi operating one of his machines and Ari-Pekka Lamminen who has shared some good shots of his piling work in the past.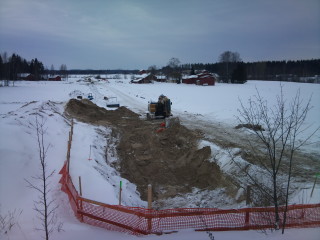 As with most major projects these days, environmental issues are very important and as the pipeline is travelling through some very vulnerable natural resources and countryside, most of which are private property, cleanliness and respect for the surrounding area is of a high priority.
It is expected that gas distribution will start by the end of 2011.
Thanks to Timo Akerland for sharing this information with us here on the Digger blog.