Daly Plant Hire Ltd is no stranger to running Volvo articulated haulers, the family run business having operated a mix of A25 's and A30's over the past twenty years. "To be honest we wouldn't run anything else," says Managing Director Eamon Daly. "Our Volvo trucks have proved their worth time and time again in terms of reliability, performance and most importantly - client acceptance." Operating a fleet of fifteen trucks including the latest A25F, Daly Plant Hire has developed a niche in the hire market, hiring to blue chip contractors and projects throughout the south east of England. Trucks are supplied complete with operators and the company carries out its own routine service and maintenance.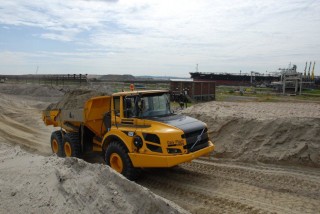 The new A25F hauler from Volvo meets the requirements of Stage IIIB emissions legislation being powered by an electronically controlled, six cylinder 235hp turbo charged Volvo V-ACT diesel engine. This features high torque at low engine speeds, resulting in good fuel efficiency, high performance, quicker engine response and less wear, i.e. longservice life. Purpose built by Volvo, the engine is designed to exactly match the Volvo drive train, ensuring the best use of power and torque, even in tough working conditions. It is matched to a torque converter with built in lock-up function and fitted with a fully automatic fast adaptive transmission. The rest of the Volvo designed and built powertrain has been reinforced to cope with the higher torque output of the engine. The new F-Series is not only more environmentally friendly, it is also more fuel efficient than the E-Series machines – by up to 4%. This is a remarkable achievement given that the E-Series was the class leader when it came to low fuel consumption. "We were keen to acquire the latest F series model demonstrating our continued commitment to keeping our hire fleet fresh as well as offering the latest technology and fuel saving benefits to our clients," says Eamon Daly.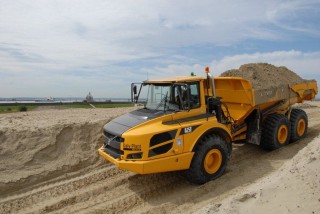 With a carrying capacity of 24 tonnes and heaped capacity of 15m³ the Volvo A25F has a maximum speed of 53kph. The truck supplied to Day Plant Hire Ltd has the optional cantilever tailgate fitted for maximum load retention. The new F-Series trucks are fitted with CareTrack as standard. This is Volvo's telematics system that enables remote monitoring of a wide range of machine functions (e.g. location, fuel consumption, service reminders etc.) thus optimizing customer operations.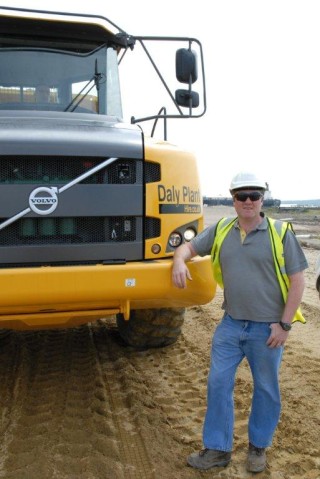 Daly Plant Hire Ltd has over 40 years of experience in providing plant for projects across the South East of England and beyond. Based in Redhill, Surrey, the company has built up an excellent reputation with its many blue chip contractors for prompt, efficient services and reliable machinery. Recent high-profile projects that Daly Plant Hire Ltd has been involved with include Heathrow Terminal 5 the widening of the M25, the redevelopment of Ascot Racecourse and the 2012 London Olympic site.