Long time Hitachi customers G. A Carlyon & Sons, who are based in Mount Hawke, Cornwall, run a variety of Hitachi excavators on their fleet, with models ranging from 3 tonnes up to 18 tonnes. Last year a decision was made to upgrade the company's existing EX45 machine for a brand new Zaxis 52U model which was supplied by the local HM Plant's area sales manager Phil Carlyon, who incidentally is not related to the business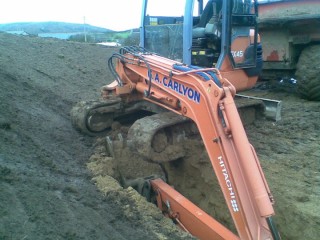 As a testament to the reliability and longevity of the Hitachi excavator products, the old faithful EX45 machine had been on the fleet for some 10 years, during which time it never gave a moments trouble. Stuart said, "It has been a fantastic and ever reliable machine for us, I can honestly say I have only ever changed around 5 parts on the machine, and they were only really changed for cosmetic reasons because it looked bad, the machine just never stopped working!"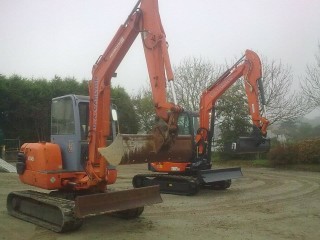 When the old EX45 was eventually part-exchanged late in 2011, it went away still sporting its original tracks, wiper blade, and even its original factory fitted battery. And so with the departure of the EX45, a new decade of Hitachi service commenced with the new Zaxis 52U. Digging conditions in Cornwall are often tough and challenging on buckets, and as such Stuart's first job was to "beef" up the grading bucket before it had even engaged with the ground, this is a common procedure in the West Country with many firms adopting the same practice to get maximum usage out of their ground engaging tools.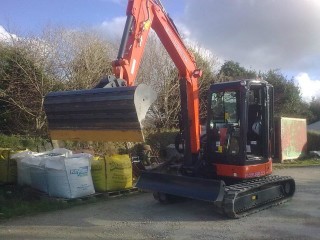 2012 started in a very busy fashion for the new ZX52U and as the months rolled on it showed no signs of non-compliance to tackle the jobs in hand. In fact the machine performed better than Stuart had ever expected, commenting on the firm's latest acquisition, Stuart said "This machine is an absolute dream to use with its unbeatable speed and precision hydraulics, and the standard fitting of air conditioning which makes it a great place to spend a working day too".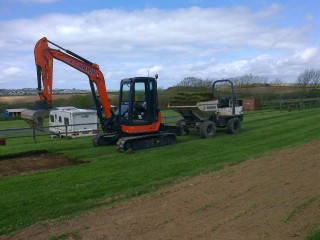 Stuart continued to heap praise on the new kid on the block. "The fuel usage is amazing, by setting the throttle to the green Eco mark, I can run the machine for 3 days without filling up, which with fuel prices the way they are right now is a big bonus. Any doubts I may have had about the zero tail swing machines stability were quickly eradicated too, as even with a large full bucket and hydraulic quick hitch at full stretch over the side it remained well balanced"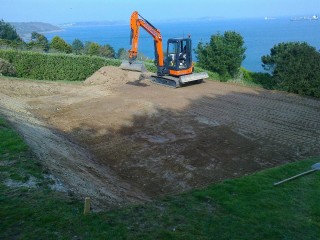 To date the Zaxis 52U has racked up over 350 hours of service on the meter and has not given any problems so far. Stuart has made a few new attachments for the machine including, a grab for scrub handling and a rotary road sweeping brush. Stuart concluded "Having been reading Nick's Digger Blog for some time and especially the articles about the blogs recent visit to Sweden, I am seriously thinking about purchasing a tiltrotator for the machine, which is something I have been pondering about for some time and I am sure it will make this machine even more of a dream to use".
If Stuart does go for a tiltrotator on his new ZX52U, this is what it will look like on his machine.
This Hitachi ZX52U was on display at MaskinExpo 2012 in Stockholm last month, and I immediately thought about Stuart and his new mount when I saw it. Hopefully we can report on your machine's new attachment over the coming months here on the Digger Blog.