As regular readers of my blog will know I am a big fan of the tiltrotator systems and it pleases me to see that more and more contractors and manufacturers are beginning to embrace these amazing work tools.
These excavators have been fitted with Swedish Steelwrist models, the first machine being one of Hanix's largest offerings, a 7.5 ton H75C fitted with a Steelwrist X12.

And in this instance one of Hanix's H36C 3.5 ton models is shown being put through its paces at a Steelwrist demonstration using an X04 tiltrotator.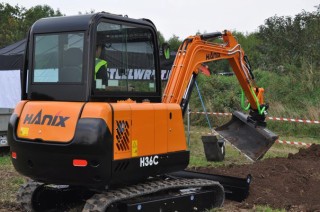 The Digger blog is planning a visit to Hanix in the New Year so look out for a full report soon.