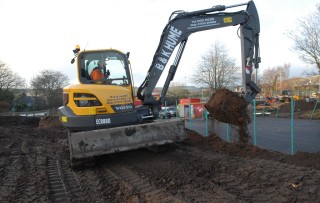 Their newest purchase is a Volvo ECR88D from their local dealer, Rockbreakers UK Ltd.
"We had a smaller two-and-a-half tonne EC25 a few years back which worked for 6,000 trouble free hours," says Kenny Hume. "This prompted us to change it for another, which is performing equally well but we were a little unsure about going for the larger machine from Volvo over the model we were running."
He continues: "Tommy Lynch at Rockbreakers organised to put the ECR88D on demonstration for us and we were that impressed with the digging performance and all round stability that the machine wasn't returned."
The Volvo ECR88D has a 2.6 litre engine developing 56 nett horsepower and closed centre load sensing hydraulic system. The machine offers a horizontal reach of 7.3 metres and a lift capacity of 960kg at full reach across the carriage.
So far, it has been going well.

"It certainly does everything we ask of it and so far we're delighted with every aspect of the larger machine from Volvo," Kenny says. "Not only that, we've developed a good relationship with Rockbreakers who seem to go the extra mile to help us on parts supply and technical advice. The after-sales support we've experienced on the rare occasion has been second to none as well."