The agreement recognises Hewden as an official club partner, with branding on the shirtsleeve for home, away and European matches.
Commenting on the agreement, Gary Tasker, Commercial Director for Sale Sharks said, "The Sharks are pleased to join forces with such a progressive and energetic organisation as Hewden. We, too, are a strong North West based brand with a national profile and we look forward to developing a mutually beneficial long-term partnership."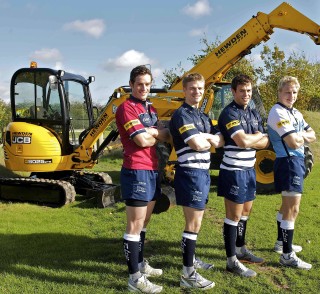 Pictured above - left to right - Sale Sharks' Nick Macleod, Dwayne Peel, Rob Miller and David Seymour.
The partnership supports the Sharks' community development programme, including a mini tag tournament played by local junior clubs at half time on match days. Over the season, this programme donates over 440 tickets to local clubs, in addition to tag rugby equipment.
To officially launch the agreement, Hewden is offering the chance for two under 15's junior rugby teams to win a coaching and training ground experience at Sharks' state of the art training centre in Carrington.

Pictured above- Left to right - Kevin Parkes, Hewden CEO, Tony Buckley, Andrew Sheridan and Steve Diamond, Sale Sharks' director of sport outside the Trafford Park depot.
Hewden CEO, Kevin Parkes, added, "Partnering with Sale Sharks provides us with the opportunity to build stronger relationships with our customers and recognise the hard work of our employees."
"Being a responsible company is very important to Hewden and this partnership is a great platform for us to get involved in the local communities and businesses whilst supporting junior sports' development and engaging with the younger members of our society."
"Our strong brands are very much aligned, sharing many core values and ambitions for growth and success."