G.A. Carlyon, based at Mount Hawke near Truro in Cornwall, have owned many different makes of machines in over 100 years of trading, but over recent years have become ardent followers of the Hitachi brand.
The company had run an EX165LC for 8 faultless years and had been very impressed with the machines performance, durability and reliability. When the time came to upgrade the old machine, there was no hesitation in selecting yet another Hitachi product.
They took delivery of the new Zaxis 180LC-3 in late January of 2010 and after sign writing was completed at the firm's yard, which incidentally is still done in the traditional way, by being painted on and not the usual stickers that are more often used these days, the machine went straight out on its first job, which was to cut out roads on a tourist campsite.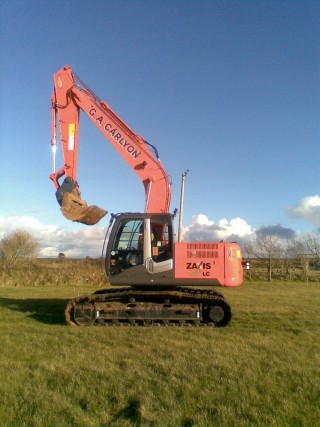 Stuart said, "We found that many things had changed on the newer models and although this first job did not test the machines power, it did test the precision of the controls, for such a large machine digging to lines that were marked out on the grass, I found the ZX180 to be very delicate and responsive, which was just what I had hoped for. In a way I wanted it to perform like the smaller Hitachi's we run."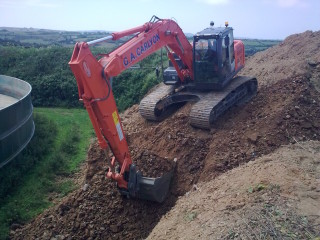 The next job the new machine worked on certainly did test the machines power. This job involved widening an area around a slurry tank to allow the farmer to gain access to all sides of the tank for stirring. The machines powerful 90.2kw (121hp) Isuzu engine coped effortlessly.
Stuart commented, "I found that the machine did not slow up while pulling through the hard rocky ground that is so familiar around these parts. But if things did get a bit hard, then I knew that the button on my right stick would give it a tear-out boost if I needed it."
The company specified a 54 inch bulk digging bucket to be supplied with the machine and even though that attachment is stamped for use with a ZX210, they have found that the extra width and weight does not compromise the balance on the ZX180 even when loading "over the side".
To date the ZX180 has only done 500 hours, and is just about to have its first oil change and service. The 180 joins a couple of other Hitachi products in the G.A Carlyon portfolio, which includes a Zaxis 30 3 ton mini excavator and an EX45 4.5 ton model.