Based in Livingston near Edinburgh, Ground Developments Ltd (GDL) specialises in earthworks, soil stabilisation and ground improvement solutions.
GDL has bought the new Hydrema trucks after good experience with a pair of standard 922D articulated dump trucks that it bought after initially hiring similar models.
Streumaster created a custom design for the 15m3 capacity body to fit the Hydrema chassis without compromising either the centre of gravity or capacity requirements. Power for the spreading body is straight from the Hydrema via a simple 'plug and play' connection.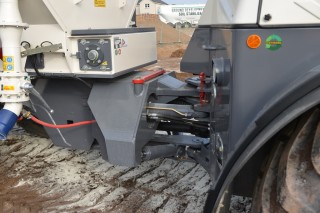 The brief from GDL was for a chassis cab that is capable of being outfitted with a lime spreading body with the ability to operate in poor ground conditions. The experience gained from the dump truck version of the 922D satisfied GDL's management that the low ground pressure Hydrema was quite capable of meeting requirements. The specification also called for the chassis cab to remain as near to standard as possible with the centre of gravity staying the same as the tipper bodied equivalent and the gross vehicle weight not exceeding the standard truck's 38.5 tonnes.
Hydrema offer both the 4x4 912 and 6x6 922 trucks as chassis cab variants capable of taking a variety of body work options and requiring no further chassis alterations. With a low unladen weight and 800mm wide tyres, the 922D is well suited to this application, Hydrema says. The Hydrema drivetrain comprises a 6-cylinder Stage IIIB compliant Cummins diesel engine delivering 264hp mated to a ZF Ergopower automatic transmission with six forward and three reverse gears.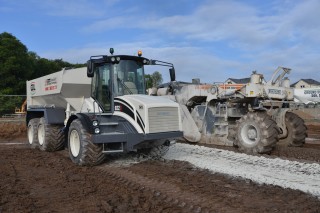 Getting the correct soil composition all depends on the accurate distribution of lime. This is where the adjustable hand throttle in the cab comes in. GDL technical manager Ryan Johnston explains: "The Streumaster ensures an even and steady flow of material from the body but it is the ability to keep the Hydrema at a constant speed which allows us to spread this material into an optimum mix."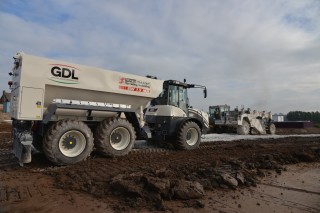 GDL commercial director Kevin McKenzie adds: "We chose to invest in two Hydrema 922D machines because we were very impressed with their ability to work at low ground pressures which is really advantageous when we are working on the soft ground conditions that we often encounter. It's important for us to have the capability to deal with the challenging soil conditions across the spectrum of projects that we work on for our clients, and therefore the Hydrema offers an advantage over our heavier, larger machines because it increases the scope of soil conditions that we can work in giving us a competitive edge that delivers solutions to our clients."
He says: "We are very pleased with the Hydrema as it offers us everything we require and has allowed us to increase our productivity."