These latest machinery holiday photos have been sent into the blog by one of the most famous Hyundai men in the UK, our good friend Doug Potter, who has wowed the crowds at many demonstrations over the years with his amazing exploits on the Hyundai machines.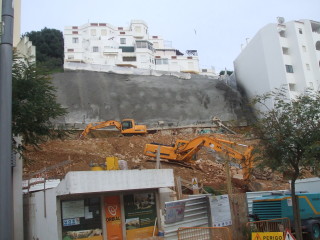 Whilst on a recent trip to one of his favourite locations, the old town of Albufeira, in the Algarve, Portugal, Doug spotted these two machines working on a piece of land which has been spare for as long as he can remember. Like so many of us with yellow blood in our veins, Doug simply couldn't resist getting the camera out to capture the two machines for the Digger Blog.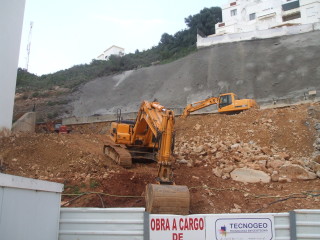 The machines on site are an R250NLC-7 (the "N" stands for narrow track), which is also fitted with a short dipper arm, and a R170W-7 "rubber duck" which is parked on the upper ledge.
Doug said "this site looks like being quite tricky, owing to the fact that the building behind sits right on the edge of a steep bank and looks like it could fall down at anytime!"

"Although this area is quiet now, it will be a hive of activity for tourists within a couple of weeks. It's a favourite place of mine in the off season with some great jazz played at the various cafe's in the square, simply heaven for me." said Doug.
Anyone who has witnessed Doug's demonstrations in the past, will have heard his favourite jazz tapes being played in the machine. Doug recently retired from demo driving, but here is an example video, from when the Dash-7 machines were new.
Don't forget to send in your holiday machinery photos for us all to enjoy on the Digger Blog.