After many years in the industry working for local company's, including Brian R Wilson and H.T Hughes, Ian decided to form his own business around 1997.
Whilst out on hire, Ian had formed a great working relationship with top Hampshire based civil engineering firm, Gracelands Ltd, where he has remained on a sub-contractor basis to this day.
Ian initially ran another famous Korean model, in the shape of a new Samsung SE130-2 machine which was eventually replaced by a Hyundai 140LC-7.
Ian tells us he has been very impressed with the Hyundai 140LC-7 and had no hesitation in choosing the Dash-9 model when it was time to trade in the old machine.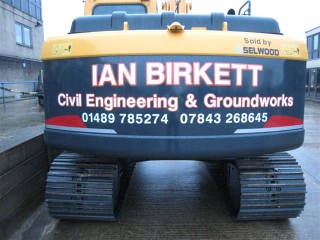 I know Ian as a personal friend and work mate from the days when we worked together at H.T Hughes. I must say he is without doubt one of the best machine operators I have ever come across. He has it all going on, speed, finesse and great all round knowledge of the groundworks industry.
I can also fully understand why Ian has chosen Hyundai excavators as his machine of choice, having owned one in the past I know just how quick they are!

The new Dash-9 Hyundai has been sold to Ian by Selwoods legendary salesman John Knight who was keen to heap praise on the Hyundai product, "They have been so good for us, and have proved to be so reliable, they really are brilliant"
The Dash-9 series have certainly been making some waves throughout the industry since their European launch at last year's Bauma exhibition, seen here in this view from their impressive stand.
I was kindly invited to have a good look around them. Once again attention to detail in the cab is second to none and although I have not yet been fortunate enough to spend any time at the controls of a Dash-9 I like what I have seen so far.
They do look like a top quality product at a very competitive price and there appears to be an ever growing following for the product now that that top dealers like Selwoods and Molson are involved.
Here is a short promotional video from Hyundai America which describes some of the merits of the new series.