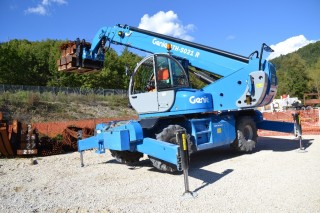 Joint venture contractor Caposele needed a machine with the ability to take on a variety of lifting and handling tasks, including transporting two-tonne pallets of steel girders, piping, and other heavy materials to and from the storage yard over the rough sloped ground leading to the tunnel entrance.
The new tunnel, called the Pavoncelli Bis, is being built to replace the original early 20th century Pavoncelli Tunnel, that was closed following damage caused by the 1980 earthquake that hit the Campania region surrounding Naples. Like the original, the new tunnel will capture spring water at its source in the mountains and take it south, via the main Apulian aqueduct, to the 1.3 million inhabitants of the Puglia region. Construction of the new tunnel first started in 1985, but was never finished. Caposele has since been commissioned to complete the project.

The GTH-5021 R is the biggest of Terex Genie's three continuous rotating telehandler models. It offers a maximum 20.87 metres lifting height and 18.2 metres outreach. It can lift 5 tonnes to the full height.
"We have been using the fixed hook on plate, mechanical jib and man platform, which have enabled us to perform all the tasks we need with just one machine," says Massimo Secondulfo, the site manager.