AJK were one of the first companies in the UK to own and operate Hydrema Dumptrucks in the UK and are well known in the industry for specialising in LGP equipment. They bought their first machines from Hydrema back in the late 1980`s and have maintained a fleet of the 4x4 10t payload machines ever since.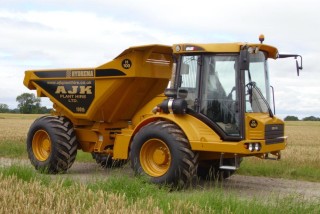 A company spokesman said, "Our first 10t Hydrema trucks were ideal for our work on golf courses and nature reserves. The floatation tyres caused very little ground damage, which was essential when working in such sensitive environments. As low ground pressure specialists it is vital to us as a business to run the best LGP machines available. The Hydrema trucks have always offered the solution for us and the fact that we are celebrating our 100th purchase of the 10t truck clearly demonstrates how popular they are with us and our customers".
The 100th machine is a 912D Multi-tip (swivel tip version). AJK also run a fleet of the larger 922D - 22t 6x6 version on the extra wide 800mm tyres along with LGP dozers and excavators.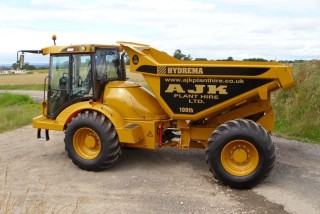 AJK Plant Hire Ltd is a family run business which was founded by John Denis Percival in 1963. John's son Kenneth took over the reins in 1977 and now runs the business with Debbie & Robert his daughter and son who are in charge of business development and machine service respectively.
The Digger Blog last got up close and personal with Hydrema dumpers at Scot Plant, but we are hoping to get hands on with one of the company's latest HM models soon at a soft ground demo we have planned.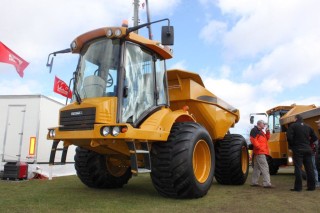 Lookout for the upcoming report here on the Digger Blog soon.