The first major UK show of the year looks set to be a busy one, as well over 2000 people have registered to visit the 7th annual hire show. This year is the biggest yet with 142 stands, 136 individual exhibitors and 36 new exhibitors. The Top Tier, which was launched last year, has 36 exhibitors and is home to many brand new products. The Digger Blog can't make it this year, but here is a brief round up of some of the digger related products on show.
Ammann is showing its recently launched (January 2013) new tandem rollers at the show. Robert Brown Ammann, managing director said, " Ammann manufactures the only tandem rollers in the 1 to 2.5 tonne class that offer full-flush compaction on the right and on the left, double traction at front and rear, and double vibration at front and rear. These machines have the lowest HAV, WBV & noise levels of any tandem rollers on the market."
Avant Tecno, the Finnish manufacturer of compact wheeled loaders, has announced the addition of the 640 model to its existing 600 Series of machines – see the new model at the EHS alongside new attachments. The new 640 model is equipped with a 2-speed piston drive motor which has increased he maximum travel speed to 22km/ h making the loader ideal for applications where longer distances are involved. In addition, low gear pushing performance has been increased to 1400 kg, resulting in what Avant has said is a very powerful machine.
BTE Plant Sales will be exhibiting the award winning Atlas Copco XAS 'hard hat' compressor which will be featured on the stand, alongside Kubota U10 and KX016 mini excavators.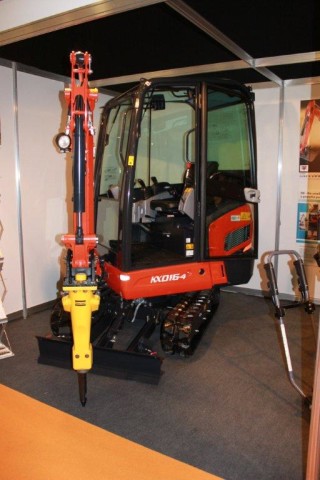 The new JCB 8018 mini excavator will make its show debut alongside JCB's extensive range of purpose built compact equipment for the rental sector. The new 8018 CTS is a conventional tailswing model giving customers greater choice in the 1.5 tonne sector. It features more than 30 improvements providing reduced cost of ownership and greater productivity, safety and comfort. These include a 52% increase in load holding capacity and an 11% increase in dig depth.
JCB will also show a model from its 17-strong line-up of skid steer loaders and compact tracked loaders which includes both radial and vertical lift variants. They offer 16% better fuel efficiency than competitors and 60% greater visibility.

Volvo Construction Equipment's utility division is returning to this year's Hire Show with a larger stand and will be exhibiting their ever popular EC15C and EC18C compact excavators along with the newly launched DD25 tandem roller. Representatives from the company's utility division including sales, after sales support and finance will be on hand to welcome existing as well as potential customers to the stand.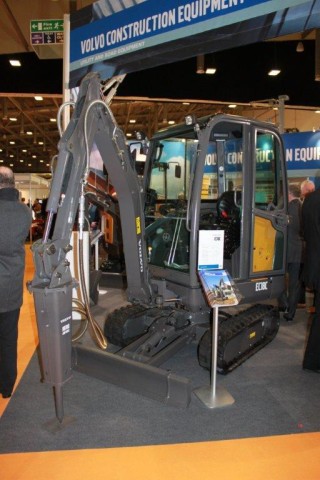 Wacker Neuson is showing the very latest ET range of mini excavators. This new generation of ET18, ET20 and ET24 in the 1.7 to 2.4 tonne class incorporate many technical improvements with customer added value in mind. Improvements include a more powerful 13.2 kW (17.9 hp) Yanmar engine, increased hydraulic power, an enhanced cooling system, a more spacious and refined cab, better access for maintenance as well as a host of other detail refinements.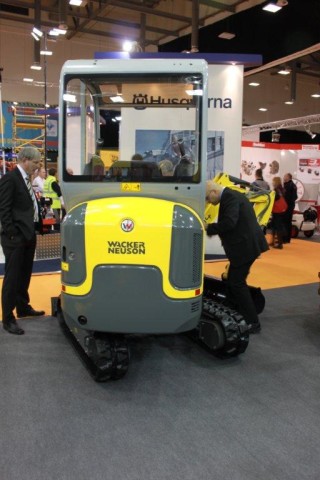 For a bigger taste of the action why not pay a visit to the Ricoh Arena in Coventry over the next couple of days.