It has more than 80 bits of kit for demolition and haulage, including a fleet of twenty-nine 360 excavators and and forty wagons.
Family-owned and managed, the company is said to be known for its innovative approach to industry challenges.
When Duncan Rudall recently became the new head of health & safety and demolition manager, the Reading-based company decided the time was right to begin a programme of converting their newer 360 machines to the OilQuick automatic quick coupler system from attachment specialist ECY Haulmark. Rudall had seen first-hand a number of other demolition contractors converting to OilQuick in recent years.
ECY Haulmark says that OilQuick can reduce attachment changeover time to less than 20 seconds, without the operator having to leave the cab.
J Mould has begun with two of its Hitachi Zaxis 210s and two Hitachi 350s machines. The Hitachi 210s have been fitted with the OilQuick OQ70/55 spec automatic quick coupler and the Hitachi 350s have the OQ80 spec.

One of the Hitachi 210 machines is working at Moulds recycling facility, complete with OQ70/55 and a range of attachments that include a VTN MT20 multi-processor fitted with steel jaws to process the oversized steel. With the addition of OilQuick the MT shear can easily be taken off and substituted for the Dynaset Hmag900 hydraulic magnet to load the sheared steel into the wagons and assist in generally keeping the site tidy of scrap metal.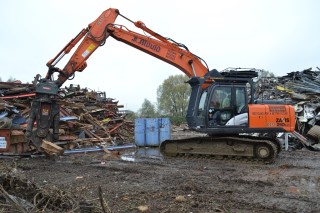 A Hitachi Zaxis 350 complete with OilQuick OQ80 is working on site at a Slough retail estate, demolishing a former martial arts studio made of brick and steel. The advantage of the OilQuick system on this site has been the ability to remove sections of the ceiling with a selector grab, and then switch over attachment quickly to a steel shear to cut through the steel beams to expose further sections of ceiling and back onto the selector grab.