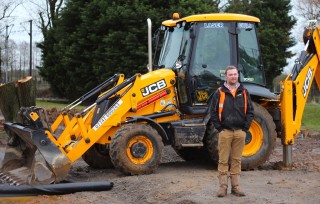 It was only a year ago that Freddy set up in business as Laser Civil Engineering & Plant Hire Limited on the back of attending the inaugural JCB Your Own Boss event. This is a scheme enables individuals to buy a new JCB backhoe loader with a deposit of just 10%.
Based in Thornham Magna in Suffolk, Freddy's business – which started by offering a JCB 3CX model for hire – went from strength to strength during its first 12 months. So much so, that the company has now bought another backhoe loader – a JCB 1CXT – and an 8016 mini excavator.
Manufacturers encouraging owner-operators to go it alone is not a new idea but is a great strategy. Another Freddy comes to mind here… Freddy Bär, the man who made Liebherr the dominant force in all-terrain cranes. He used this strategy to great effect in the 1980s and '90s, effectively creating his own customer base, helping new entrants get started and reaping the benefit for years to come as they stayed loyal to you for evermore. There are crane hire companies all round the world who are now major players thanks to Liebherr's Freddy Bär starting them off.
It is no coincidence that Liebherr and JCB are both privately-held family businesses. They are able to think long term in a way that publicly quoted companies generally cannot or will not.
And it sounds like JCB is heading for as much success with this strategy as Liebherr. It certainly has its hooks firmly into Freddy Vaudrey. "I'm a big believer in the backhoe loader concept and the JCB is hands down the best on the market," young Freddy says. "Performance, versatility and attachment availability are all excellent. Now I'm responsible for running the business, fuel consumption becomes a major factor too - and it's excellent on the latest JCBs. JCB is an extremely well established, British business with a fantastic reputation - and it's that brand I bought into."
There's a second JCB Your Own Boss event coming up and Freddy Vaudrey is urging other budding entrepreneurs to attend. It is taking place on Saturday 19th September 2015 at JCB's Worldwide Headquarters in Staffordshire.

He says: "I am young, hard-working and ambitious and that is what the scheme is about. I never believed it would be possible to start my own business but I attended the event and was so impressed that I went for it. It has proved a brilliant decision. The business is very busy and I'm so glad I did it. I recently had so many enquiries I could have placed four machines so it's definitely time to add to my fleet. If the recipe works, keep doing it!
"A lack of business experience can be a real barrier to most people who want to work for themselves in this industry. However, with the JCB Your Own Boss scheme so much of it was taken care of that it gave me peace of mind. I can focus on doing a good job and looking after customers because I get support with insurance, training, finance and of course the machine. It's seamless to get started and everything is mapped out for you. Anyone keen to be their own boss really should take advantage of this opportunity."
To register for the JCB Your Own Boss event go to www.jcb.co.uk/Campaigns/2014/Your-Own-Boss/Register.aspx
Here is a taster from the previous event: