Graham Centini is another operator who like many of us has come up through the ranks, having learnt to operate machines at an early age with our fathers, back in the good old days when it was generally acceptable, before the health and safety restrictions put a stop to youngsters learning our trade and helped to attribute to the current lack of skilled/experienced operators.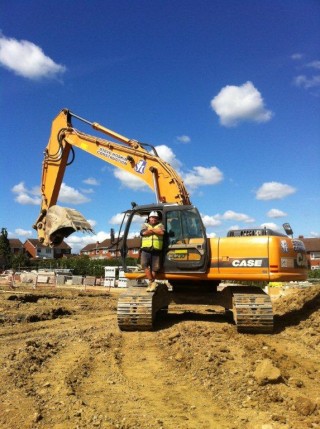 Graham's current machine is a Case CX210B which featured here on the blog a while ago. Graham was recently sent to operate his older CX210 (shown above) which is still on the SHC fleet.
Although a big fan of the current Case B Series machines, Graham still has fond memories of his time on the original CX model, Graham said "when I fired up the machine it was great to hear the roar from that 6 cylinder engine again". As I'm sure many of you know the new B Series machine is supplied with a 4 cylinder engine, which is extremely quiet from my experience on them.
Here we see the older CX210 model in the background with one of SHC's new CX130B models to the fore.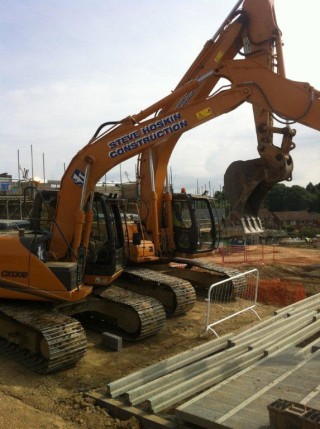 Graham got his first break on machines with Simpson Plant Hire, and later started full time with Alfred Mc Alpines on sewerage scheme improvements around Cornwall.
I became friends with Graham when I first moved down to the West Country from Southampton in 1997, when we worked together on the development of a new Safeway superstore in Plympton just outside of Plymouth, at the time Graham was operating a Caterpillar 428B backhoe loader (similar to the one in the photo below) for Brokenshire Construction and I was operating a Fiat-Hitachi FH150.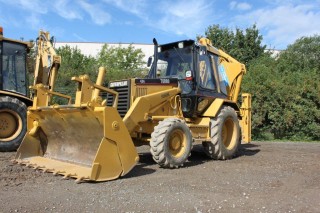 Following Brokenshire's demise, Graham went back on for Simpson Plant Hire, where he took on his full time wheeled digger operator role, Graham stayed with Simpsons for 6 years, after which he was sub-contracted out to Cormac for 3 years, working on the roads in Cornwall.

Graham explained, "The money wasn't that great and when my wife had to give up her job after being diagnosed with cancer, I needed to find a better paid job."
"That's when I found Steve Hoskin Construction and to my delight there was a new Case CX130 waiting for me to start."
Graham continued, "My wheeled digger career ended and my 360 degree excavator career began. Over the last 4 years I have worked my way up to the current Case CX210B which I think is a brilliant machine, SHC is a great firm to work for where nothing is too much trouble and doing your days work is what it's all about"
Graham is a top machine man and a larger than life character that is always up for a laugh, he is also one of those guys you meet who has a big heart and will help you in any way he can!
Graham also takes part in the local dancing digger displays that happen down here at the local shows and machinery rally's in the summer. Here he is at the controls of a Case 695 Super R backhoe loader during the Liskeard show in 2007.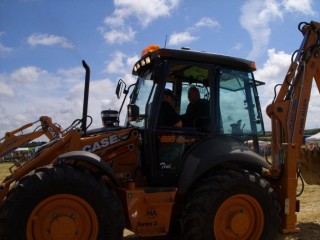 And here we see "Tini", as he is affectionately known by his workmates, performing the over the side tip stunt at the same event.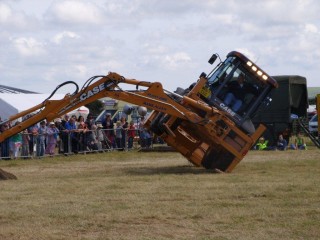 Hopefully in the not too distant future your blogger will be posting more on the fleet of SHC machines. So lookout for more reports here on the Digger Blog.