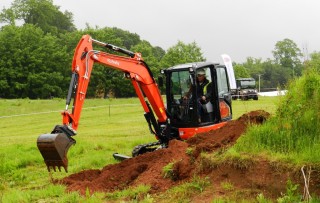 MST held its last 'Dig and Drive Day' in May and was sufficiently excited by the response from the construction and plant hire industry that it is planning another one already.
This will be held on Thursday 2nd October at the Bicton Arena near Exmouth in Devon. (Note change of date: previous publicity material advertised it for 11th August.)
Just like last time, visitors will be able to test a range of Kubota mini-excavators, from the compact U Series to the largest mini-excavator in the fleet, the KX080-4. You will be able to take Kubota RTV900 rough terrain buggy round a purpose-built RTV track.
MST's construction specialist Robin Wearn said: "It's great for customers to see and experience the machines at work and practice their excavation skills in a safe environment. We had a great response to the Dig and Drive Day and look forward to welcoming guests again at Bicton Arena."