Gerhard Frainer has his own ideas of what the highlights were, however. Frainer is managing director of the Nenzing factory in Austria that makes duty-cycle cranes and foundation machinery, so is naturally likely to be biased towards his own products.
When asked about his new products at the fair, he was most keen to highlight two: one a crane, the other a drilling rig.
The HS 8300 HD Hybrid Drive is equipped with the Pactronic hydraulics system first seen on Liebherr Nenzing's harbour cranes. A hydraulic accumulator supplements the fluid pump in delivering power to the system. It serves as a pressure storage reservoir incorporating a gas with a hydraulic fluid. The accumulator is charged every time the load is lowered. Energy is stored in the compressed gas for release on demand. You can see the cylinder in the picture below, just above the left crawler track and below the handrails.
The Pactronic system provides a secondary energy source that can also be called on for extra beef to speed up lifting and lowering the bucket. This means that the engine does not need to be as big as it otherwise would be for a 300-tonne crane, so fuel consumption and emissions are both reduced.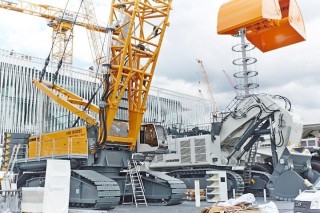 The second new machine that Rainer picked out was from the deep foundation equipment range. The LB 44 rotary drilling rig can reach a depth of a whopping 92m and offers a 3m drilling diameter. The high-performance rope crowd system, offers a 56-tonne pull force.