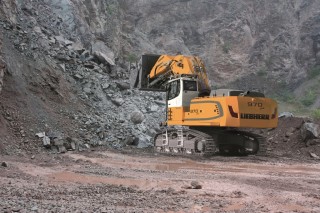 This 80-tonne Super Mass Excavation machine is going to be officially launched at the Steinexpo trade show in Germany, 3-6 September. It has a wear-protected 4.5m³ bottom-dump bucket, equipped with the new Liebherr Z-type self-sharpening teeth.
The R970 SME replaces the SME version of the R964 C. It is capable of tear-out forces of up to 370kN and penetrating forces of up to 500kN. It uses undercarriage elements from the larger R976 and the increased ballast weight increases its stability, Liebherr says. In this way, it can be operated with bucket sizes of up to 5m³.
Steinexpo is not an exhibition of Germany beer-drinking vessels. It is sort of Germany's equivalent to our Hillhead. It is held every three years in what I am told is Europe's largest basalt quarry, with lots of live demonstrations of machines. It is in Homberg, right in the middle of the country, roughly 100 miles north of Frankfurt and the same distance east of Cologne.
Liebherr will also be demonstrating the L586 wheeled loader, the TA 230 articulated dump truck and the large R 9150 mining excavator, which is making its European show debut.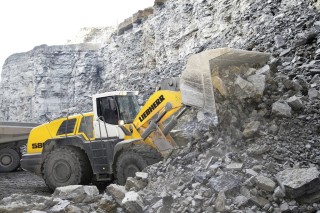 The L586, pictured above, is described as the world's largest hydrostatically-driven wheeled loader in the world and has a 5.5m3 rock shovel. It weighs 31,380kg in its standard version and achieves a tipping load of 20,430kg.
The R 9150, below, was first seen at the Minexpo 2012 in Las Vegas, USA. It is the successor of the R 984 C and will be shown at Steinexpo in bottom-dump bucket version with a bucket capacity of 8m³.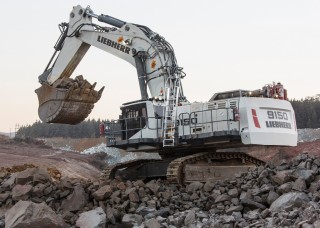 Liebherr will also be showing its L580 wheeled loader and the R976 HD and R9100 excavators.
The R 9100 mining excavator, first seen at Bauma 2010, will be at the Steinexpo 2014 in a backhoe bucket version. This 100-tonne excavator is equipped with a Liebherr bucket with a nominal volume of 7m³.
For more details of Steinexpo, see www.steinexpo.eu.