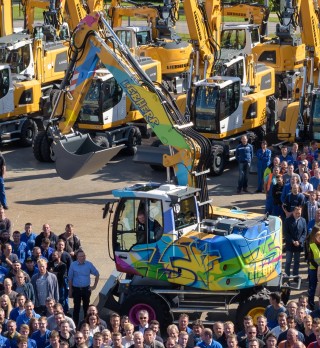 The landmark machine was an A 918 Compact Litronic wheeled excavator, which has now been despatched from the Liebherr-Hydraulikbagger factory in Kirchdorf to join the fleet of Liebherr Rental Services. It might be hard to miss if you ever find yourself on the same site as it.
Hans Liebherr began producing construction machinery in 1949. Five years later, in 1954 he produced his first wheeled excavator, the L 300, a 25hp six-wheeler weighing in at 7.5 tonnes. Although the drive was still mechanical, it was Europe's first hydraulic digger, Liebherr says. Other aspects of its design were also unique for the time: the operator's cab, the boom and the combined shovel/backhoe bucket appeared for the first time on a construction machine. The slewing ring was developed and produced in-house.
Liebherr made and sold 110 of these machines in the first three years.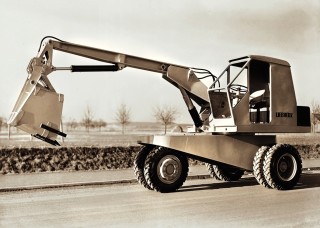 In 1960 came the 16-tonne A 650 (60hp) wheeled excavator with hydraulic drive as well as hydraulic digging power.

2017 also marks the 50th anniversary of the first railroader from Liebherr-Hydraulikbagger. The A 400 ZW was launched in 1967 as a wheeled excavator able to be used on rails or on the road.
Other landmarks for Liebherr-Hydraulikbagger over the years include the A 912 wheeled excavator in 1983. Its diesel engine, hydraulic pump, swivelling drive together with planetary gearbox, excavator axles as well as gearbox and transfer box in the undercarriage were all now manufactured in-house.
In 1989 came the A 912 Litronic, the first wheelie bagger with Liebherr's system of intelligent electronics and functional hydraulics for monitoring, controlling and coordinating all key systems of the excavator.
The machines have changed somewhat over the past 60+ years but Liebherr says that its machines still meet old Hans' original requirements for a mobile, robust and ergonomic earthmoving machine with high availability.