The Royal Cornwall Show is one of the biggest events of this kind in the country, it runs over 3 days and attracts somewhere in the region of 150,000 visitors. For the Cornish it is one of the biggest events of the year and it is often said that the county comes to a halt during the 3 day festival, as proud Cornish men and women visit the showground and also the many thousands of tourists who visit the region at this time of year. This year's event proved to be challenging during the first two days as heavy rain and gale force winds threatened to put a dampener on the show, but they are hardy souls down in this neck of the woods and they were not going to let the weather get the better of them.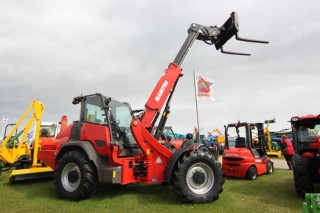 On Saturday the sun made a welcome return, in amongst a few showers, and I made my way to visit our friends on the Plant & Engineering Services stand. You are always sure of a warm welcome from Jim Prior and his team who have been regulars at the show for many years. Latest models from Volvo's compact line were on display alongside other smaller products from PES's sales portfolio, including dumpers from Ausa, Cormidi, Muck Truck and Winget, and hammers from Atlas Copco.
Other products from Volvo's heavy line, which is sold in the South West by area sales manager Richard Shelbourne, included this EC140C LC excavator which one would think will soon be upgraded to D Series status.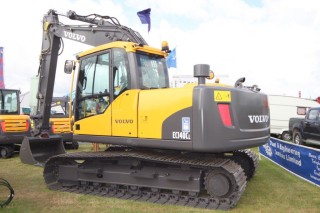 Also on the stand was this Volvo BL71B Powershift backhoe loader, which was recently acquired by St Austell based Mark Richards Plant Hire Ltd. Mark has only had this machine for a short while but he is very impressed with the latest addition to his fleet of machinery, which he described as an absolute dream to operate.
In their usual prime location in front of the BBC outside broadcast unit, one finds M&M Plant Sales Ltd stand. Mark Gregory, Luke Harris and the team, were displaying items from the Case construction equipment range. It's almost a religion for the local contractors to be seen with new items of kit on display at the show, and this year was no different with two new Case CX130B models on display for two of the big players in the South West, Steve Hoskin Construction and Fred Champion Groundworks.
Mini excavators were also represented, with the inclusion of this new Case CX30B, which has been bought by K&D Gilbert Ltd, another company who are based in Liskeard, Cornwall, which is something of a hotbed area for groundwork's contractor's in the South West.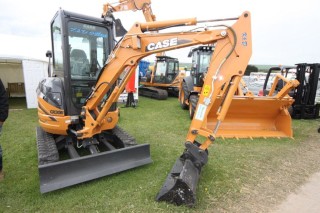 Also on display and getting a lot of attention was this Wacker Neuson 2003-2, a 2.2 ton machine which features the company's revolutionary VDS (vertical digging system) enabling the operator to dig a vertical trench when working on hill sides and sloped ground. This model has been sold the AJ Plant Hire Ltd.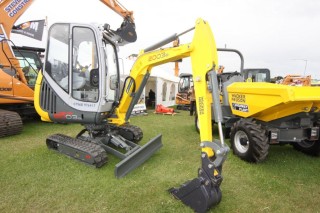 Over at the Vincent Tractors stand, I was delighted to spot a very smart looking Kubota KX057-4 which was also sporting a Engcon tiltrotator, further evidence that people are starting to get the message here in the UK. At the risk of becoming a tiltrotator bore, I just wish more people would wake up and realise the benefits these systems offer the end user.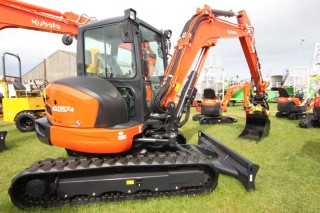 The Holt JCB stand was brimming with machines with one of the most eye catching machines being this gold painted JCB 155 Eco skid steer loader, not sure what the story was behind this colouring but hopefully someone in the know will tells us about it.

Also on display was this latest generation JCB JS220LC excavator, and also caught on camera, Mark Richards from Mark Richards Plant Hire Ltd., who is a keen Digger Blog reader. It was good to catch up with Mark at the show and I would like to thank him for his kind words and encouragement for the blog.
Down to the Kellands Plant Sales stand now, and the undisputed king of groundworks in the South West Fred Champion Groundworks, had a couple of Doosan models on display. The first one being a DX140LCR 14 ton class compact radius machine which are growing in popularity on tight and congested housing sites.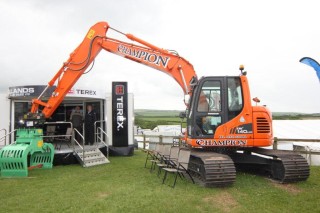 Also sporting Champion Groundworks colours, was this Doosan DX60R, a zero tailswing model with an operating weight of 5,930kg. Yet again another useful machine on tight jobsites.
Also on display was a Doosan DX140LC, in the colours of rapidly expanding Helston based civil engineering company MJL Contractors Ltd. This machine joins the company's fleet of Doosan excavators which includes 8 ton, 14 ton and 22 ton models.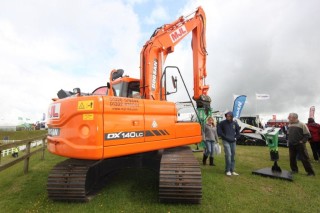 My next port of call was at the CBL Plant Sales stand, where I was met by regional director, John Elliott, area salesman Rod Luckman and their team who have all become keen followers of the Digger Blog. CBL Ltd are main dealers for Atlas Copco, Bomag, Merlo, Takeuchi and Thwaites and a whole host of these products were on display, including this striking looking Thwaites 9 ton dumper which has been painted in Steve Hoskin Constructions white and blue livery.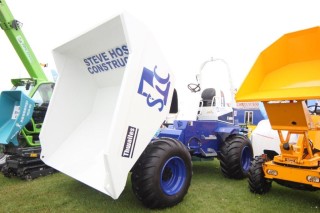 Takeuchi excavators continue to sell like hot cakes all over the UK, with one of the best sellers at the moment being the new TB285 seen here in this example, which is one of a number of machines sold to WH. Bond Ltd.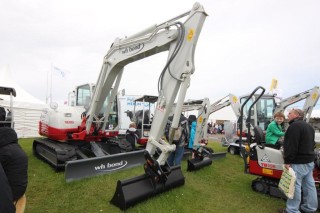 It's not all new kit at the Royal Cornwall Show though, and I finished my visit with a look around the vintage steam engines and vehicles, which included this 1912 Wallis & Steevens road roller which is affectionately known as "Gromit".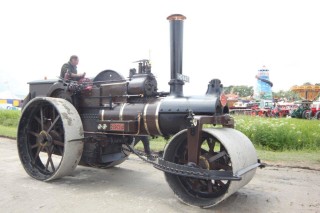 If you have never visited this show I thoroughly recommend you do so in the future. It's a good all round day out for the whole family, but just make sure you have some good footwear with you as there is an awful lot of walking to do!